December News 2019
It'll be a shortened news this month as we'll be taking a couple of weeks off for our winter break. To start – we had Andy from Plymouth picking up his new Lamorna,
It had a Sitka spruce top and this stunning English walnut for the back and sides.

Second along this month we have this twelve fret Torridge for Sarah from Somerset. Sarah wanted her Brook to have an aged look so we shaded the top, stained the nut and saddle and gave the guitar a satin finish,

The inlay around the twelfth fret is based on her tattoo.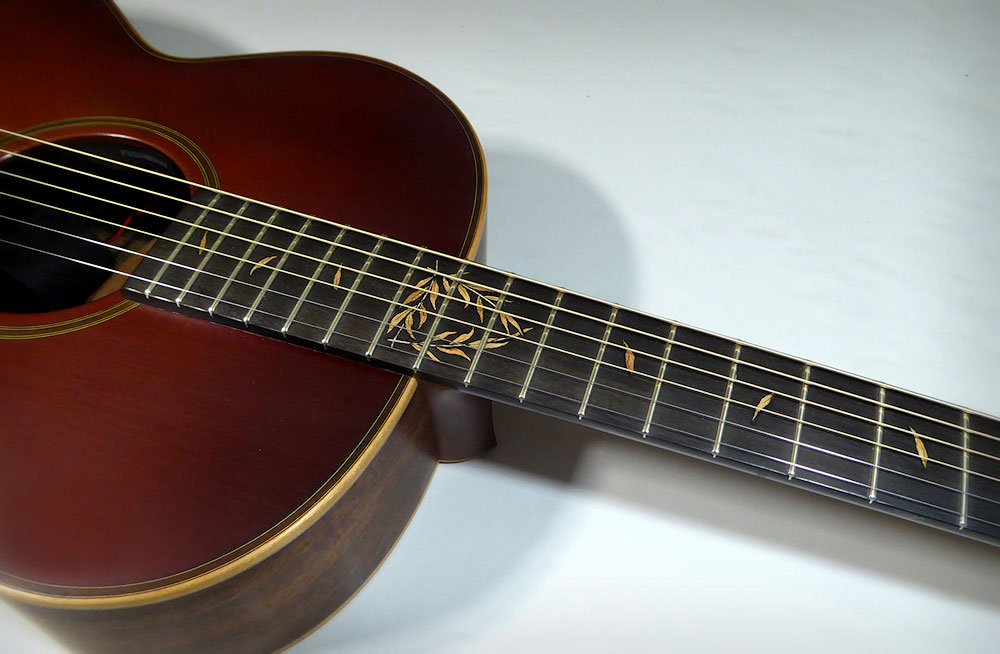 The Brook logo is maple in a rosewood head veneer with an inlaid pearl star to match a similar sticker Sarah's daughter applied on her previous guitar!

Mark really liked my Lamorna when he came down from Surrey to place an order so we built a similar one but with a slightly wider nut width and fingerboard splay to his specifications. He couldn't make it down to pick the guitar up so we sent it up to him. He wrote " It's a beautiful guitar! Your collective workmanship is superb and the set up is fantastic".

Julie has several Brooks and came down from Stroud to buy this figured redwood topped pre-owned Torridge.

This spectacular top, back and sides set has just arrived by post – we bought it to make an all koa Lyn for Coda Music in Stevenage.

Adam came down from Scotland to order his second Brook with the Tavy we made for him nearly fifteen years ago. Adam did the inlay for that one himself, here it is –

Two of the repairs this month include a neck reset on this vintage Martin and repairing a split back on this David Oddy guitar.

Now, in the true spirit of an over commercialised Christmas, we send you our best wishes

And hope to see you again in the New Year. New Year, new guitars!
November News 2019
First off this month – these two, an Okement and a Teign went up to Coda Music.

The Teign has the stunning figured mahogany top back and sides, while the Okement has a Sitka top and maple back and sides.

We don't often get asked for the Okement so here's the opportunity for a couple more photos,

It's the largest of our range, similar in size to a J200 with a 650 mm scale. It's a big powerful guitar!

Sebastian came to pick up this Lamorna,
He'd picked out the flamed English walnut and Sitka some months ago.

The guitar was a present and he asked for this inlay on the twelfth fret to mark the occasion of his 18th bithday.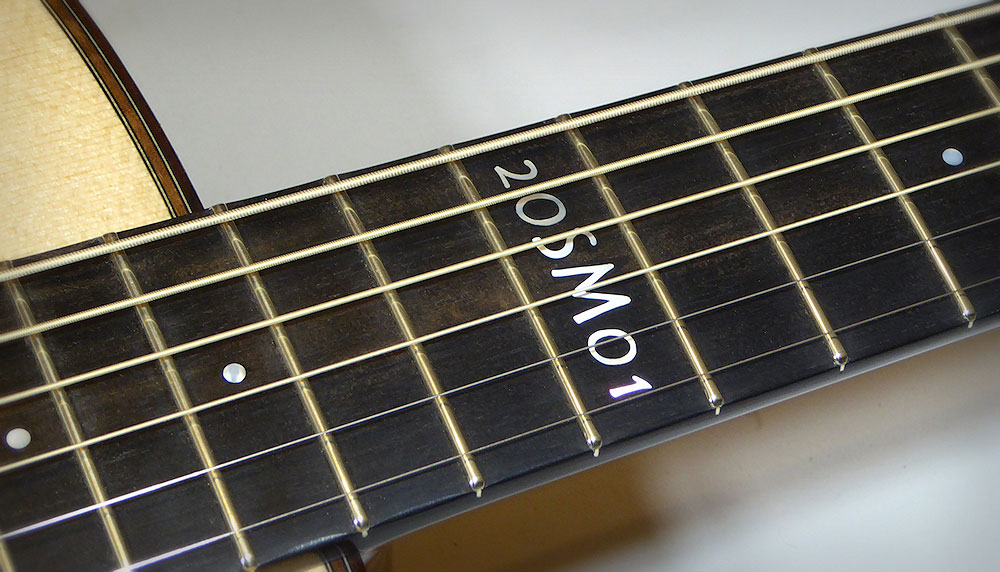 Now – what are the chances of this? The same day as Sebastian (above) came to pick up his guitar we had a visit from another Sebastian, same age, both came with their fathers, both had a Lamorna! Seb here had bought his from Project and it was love at first sight! He came for a look around the workshop and to have a strap button fitted.

It's not often we get a chance to make any guitars for stock as we're so busy with orders but we thought we'd better make up a Taw out of one of the last sets of the spectacular figured mahogany before it was all snapped up.

Here's the back. If anyone would like to try it come and see us at the workshop.

We sent the Abbey featured last month over to Italy, Fulvio sent us this photo of himself with the guitar overlooking his beautiful home city of Sanremo. He wrote to us " When I hold the Abbey in my hands, I get excited like a child with his first toy. Pleasant to the touch, to the ear and to the view; it attracts me like a magnet". Thanks Fulvio!

These two Taws are about to go to Project Music. The walnut one has our standard bridge and the rosewood one has a traditional belly bridge, we give our customers the choice but we'd be interested in anyone's opinion if they have a preference.

Jez has our old friend Chris Ayliffe's Lyn. Jez came down to visit Chris' wife Jan and pop into the workshop so we could show his neighbour Mark, a violin maker, around.

Aaron's Tavy had now re-joined his collection back in Australia after a spell abroad and Aaron's really pleased with the new custom neck.

Now – some customers want low, low frets while others like the jazz playing owner of this Epiphone Emperor want them as high as possible, here we re-fretted the guitar with substantially large hardwearing Evo Gold fretwire.

We'll give you the final news update of the year in about three weeks.
October News 2019
Dave here has had lots of guitars from us over the last twenty years and for a while and was distributing them in the Dorset area with our mutual pal Freddie under the company name Shady Grove.
This time Dave went for a reclaimed mahogany Lyn

With an Adirondack top, rosewood fingerboard, bridge and head veneer, and a slightly narrower body.

George picked up his left handed Taw

With a cedar top, abalone purfling and rosette,
Local English cherry that we sourced from a farm in North Devon, a sound-port,

These delicate fingerboard inlays

And a wolf inlay on the headstock.

This Abbey is about to go out to Fulvio in Italy,

Like the original we made for Ian Anderson it has his trademark pearl rosette

And is going out in a custom flight case.

Here's a slightly unusual instrument for us, it's a nylon strung Weaver we've just completed for Paul from London.
The Weaver is a small parlour size guitar with a full 630 mm scale length that fits into a three quarter sized hard case. We fitted a passive Fishman under-saddle pickup,
Here's the flamed maple back. Paul will be coming down to pick it up next week.
The Indian rosewood Torridge here had just gone off to Project Music in Exeter.

A friend passed on half a dozen guitar books to us the other day. Browsing through them we noticed that, unknown to us, we were featured in several of them. Amongst them this little parlour we made for Tom Cutler was included in '1001 Guitars To Dream Of Playing Before You Die'!
Rather a lot of repairs and set-ups this month:
First of all we were asked to make up a wider and deeper neck for this Tavy we made for Aaron in Australia four years ago. He loved the guitar but neck was too skinny for him so he sent it back and we've made a replacement with this alternative headstock design he'd asked for.

The customer who ordered the Lyn here earlier in the year had the opposite problem and asked us to narrow the neck, fingerboard and nut width by 1.5 mm. A substantially easier job!

Jesse Molins brought in his nice Aria jazz guitar for a re-fret with tall Evo Gold fretwire. As well as performing with his own trio Jesse has toured and recorded with Mike Westbrook and other prestigious musicians – and played at Ronnie Scott's!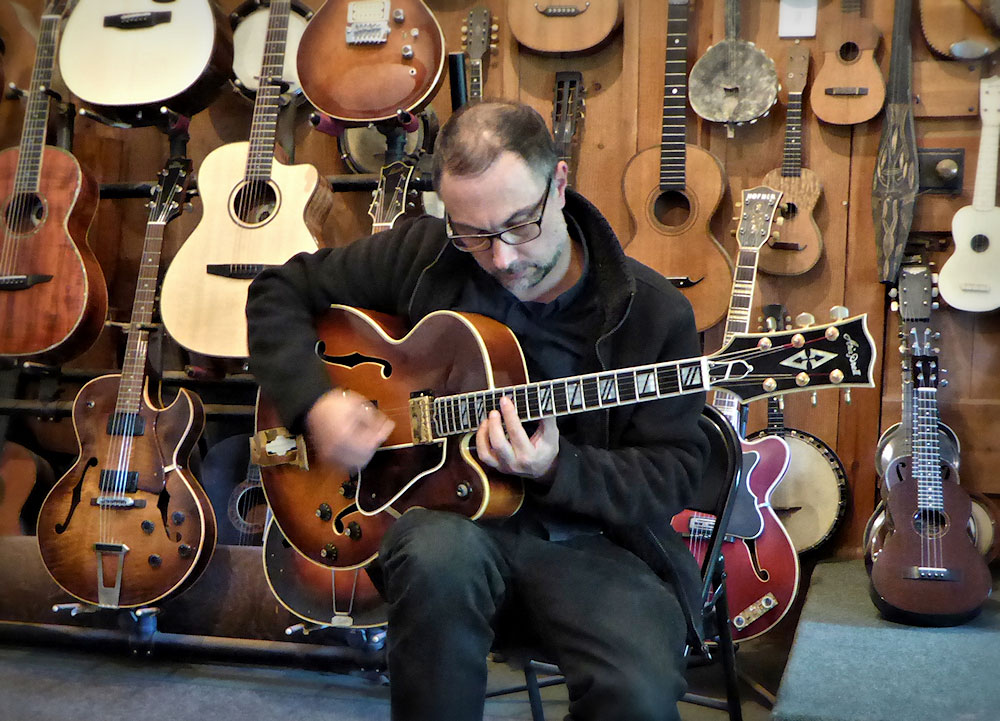 The bandaged arm here belongs to Marcus who had an unfortunate incident involving a ladder – get well soon and we hope you'll be up and strumming those Indian influenced compositions on your Taw again before too long!

We set up this fifteen year old 680 mm scale Tamar baritone for standard tuning with a new nut, saddle and a set of Elixir 11s to bring it to the normal string tension.

This cello turned up a little worse for wear, we glued it back together and repaired the finish and it's now as good as new.

This nylon strung vintage instrument is a bit of a mystery to us and the owner, we had the glue the bridge back on and get it back together. It has an interesting clock key neck adjustment. Any information about it from our readers would be appreciated.

Finally – thanks to Frances for this little Brook mosaic
It's now taken its place amongst our increasingly large display of unusual instruments!
September News 2019
This beautiful Lyn is soon to be shipped out to Wolfgang in Germany,

The koa is the finest we've seen for a while,
The soundboard, back and sides are a matching set.

It's an 015 trim with bound fingerboard and headstock, abalone purfling, diamond and dot fingerboard inlays, Wolfgang preferred the chrome tuners to the regular gold ones we'd normally use on the higher spec model.

Brian Higbee, a local artist, collected his new mahogany Taw,

Brian chose this Escher inspired image for the headstock,

He asked us to sign the guitar so we made up a similar themed label for the purpose!

Here are the latest three for Coda Music, clockwise from the front: a rosewood Taw, Lamorna and Teign.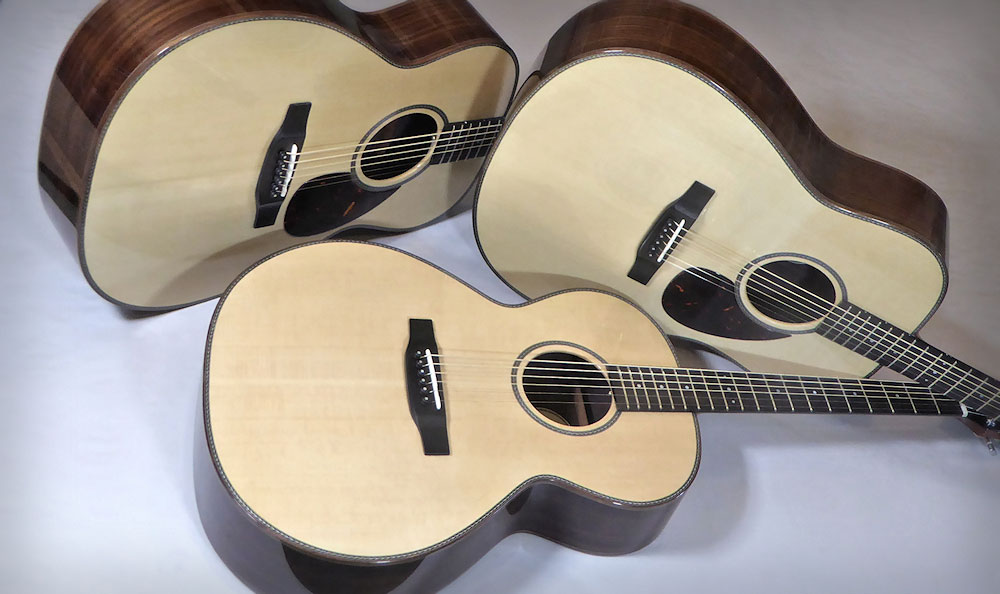 Rob's the proud owner of this thirteen year old Taw, it's Rio and Sitka and has a dolphin inlaid on the headstock. He picked it up a couple of years ago from Ivor Mairants. Rob's delighted  with it and at last got the chance to bring the guitar down and have a look around the workshop earlier this month.

Allan appreciates the quality of his Torridge, in part because he works to the highest standards himself, Allan makes the superb quality leather cases you see in the photo on the right.

Pete MacGregor picked up this walnut Lamorna from Project Music and put it straight to work the following day accompanying Rosie Upton at the Village Pump, Trowbridge. Thanks to Dave Pegg for the photo.

Finally – a sad farewell to our friend, blues legend, Julian Piper who died a fortnight ago. Julian was a great player, promoter, interviewer, reviewer, enthusiast – and genuine good fellow, we'll miss him.

Our sympathies go out to Cathy, Lucy and Sam.
August News 2019
We'll start with a couple of guitars we previewed for you last month: Suhail is a filmmaker from North London, he ordered this fretless Taw with the Anjan fingerboard, he's planning on using it for the soundtrack of the film he's currently working on!

Tony picked up his ziricote Tamar and is already considering a second Brook.

This month we seem to have mainly been working on mahogany topped guitars:

These two for Coda, a Lyn and a Clyst,

Pretty stunning figured wood, pyramid bridges on these two 12 fretters.

John Middleton brought in his 2016 reclaimed mahogany topped Tamar for us to fit a pickup.

And this lovely vintage Martin came in for a neck reset, new bridge and repair work to the bridge plate and bracing,

It's  an 00-17 from 1935 and sounds great now with an easy action.

Amongst the other repairs we had this Maton in with some severe damage to the back, Andy did another great job getting it back together, the customer was delighted and couldn't even see the repair!

Andy relacquered the fingerboards on two of these custom shop Strats and sorted out a few dents and dings.

I went up to Kevin Aram's workshop in North Devon with Martin who edits our Babbling Brook magazine, Martin was picking 'Ritzy' his new classical, I had the pleasure of trying it out up there!

It's back and sides are from the same batch of yew as Martin's Okement.

It's festival time again, Dave Treloar always has a pop up shop with his vintage instruments at the Sidmouth Folk Festival, he brought in these nine instruments from his van for a quick set-up before he set up shop.

I went down to the Cornwall Folk Festival to see Wizz Jones, Pete Berryman and Boo Hewerdine, then on to the Hellys Guitar Festival to see Pete again along with Chris Woods, Bob Devereux and innovative luthier Kif Woods. Here's Pete playing the Tamar we made for him about twenty years ago.

Nice to see this pretty little German blonde guitar-shaped mandolin on the bench again for a re-string.

And thanks to Pat in Las Vegas for the photo. Pat's still planning on eventually crossing the pond to see us – The Devon cream tea will be waiting for you and April!
I've collected so many guitars over the years and occasionally not been particularly selective, I know that this may not go down too well with some enthusiasts but, rather than giving unplayable instruments away to budding guitarists, it's sometimes kinder to dispose of them gracefully,
The guitars not the budding guitarists of course, let's make that clear!
July News 2019
First off the post this fine July morning and certainly a first for us is this fretless Taw, it's tuned in fifths from a low F to a high E.

It's a cedar topped 12 fretter with an Anjan fingerboard, bridge and head veneer. Anjan's one of the densest Indian hardwoods so we thought it would be eminently suitable to cope with fingerboard wear.

Rosewood back and sides with a satin finish.

The Lyn here will be going up to Manchester this week. Adirondack top,

Snakewood binding, soundport,

Highly figured bubinga back and sides

With a laminated mahogany neck with a rosewood splice, topped off with bronze Waverleys with snakewood buttons.

Possibly not coincidentally – this cutaway Tamar is for Tony who has a place down by the Tamar estuary.

Nice ziricote back on this one!

Andy took this English cherry Tavy and English walnut Torridge up to Project Music in Exeter a couple of weeks ago.

Phil Taylor took a trip down here for an adjustment to his Lamorna neck.

This early '90s Gibson ES 175 has rather unpleasant cold checking on the headstock and other areas – an all too common problem on these. The frets ended up working their way through the binding as the fret-board shrunk, everything points towards humidity problems in the factory during the build. Unbelievably there are still Gibson fans out there who consider this a charming feature!

A considerably better finished Gibson Midtown Custom came in, we made up a replacement pick-guard.

Here's a cute small bodied arch-top Framus – it came in for a neck re-set and went out playing beautifully!

TV's Taw with the removable neck came in for a check over,

And – yes, that's buckle rash!

It was somewhat of a disappointment to see this printed tortoiseshell pattern on an anniversary edition Martin. Ladies and gentlemen I can assure you at Brook Guitars we only use the very best quality fake tortoiseshell for our pick-guards!

Enjoy your summer.
June News 2019
First up – We resisted for many years but our thanks go out to Robbie and Martin for their hard work and prodding us into setting up the Brook Guitars Facebook page. For anyone who might be interested in following us we promise not to bombard you with incessant inane drivel and photos of our food!
Back to the real stuff: Arjan and his wife Monique came across from the Netherlands to pick up his new Tamar,
It has a European spruce top, red gum back, a torch inlay on the headstock and hexagonal abalone block inlays for position markers.
Arjan was so pleased with his new Brook he called in to Project Music on the way home and purchased a Lamorna to keep it company!
Our buddy Tony has added a custom Calder to his impressively large collection of Brooks,
This one has  English walnut back and sides with a tinted Swiss spruce top
And Jack's kingfisher inlay on the headstock.
A couple of weeks ago I went to see the excellent Steve Tilston and Jez Lowe playing a gig in Kingskerswell, Steve was happy to sign the label and test drive the guitar – Tony was delighted!
While we're on the subject of the Calder, here's Steve's mate Keith Warmington performing at The Eldon House, Bristol.
Phil came down from Oldham to pick up his new Lamorna,
Adirondack top on this one along with English walnut back and sides.
When Phil got back he took this photo of the Lamorna, already feeling at home, between his Torridge and Lyn.
Another Lamorna – very popular this month, this time with a sitka top with a pick-guard, and rosewood back and sides,
Also very popular with our customers currently is the new decking area. Here's Mike with his new guitar!
Will Riding's playing his Torridge on his latest EP 'Venus In Mohair', it's officially released on 1st of July and available on Bandcamp here.
Tom Robinson wrote "The unpretentious charm of Will Riding's performance…completely disarmed me"! Check it out.
Lars Mullins came down to interview us for Britain's Rare Guitars
It's for a short feature for their program on Sky, you can check photos from the shoot on their Facebook page here.
See you next month!
May News 2019
Keith Warmington picked up his new Calder. Keith's a good pal of Steve Tilston and ordered a similar guitar but with a few changes:

Keith went for a natural finish for the fine Swiss spruce top,

he asked for a Cornish chough inlay on the headstock.

Apart from that it had the same features as Steve's – the 12/14 fret body join

And the sound-port.

Here's the full-length shot

And here's Keith on the decking outside the workshop for the obligatory photo!
This Lyn's just gone up to Steve in Hertfordshire,

A solid headstock rather than typical slotted one – it does make string changing a lot easier!

He asked for a nice aged tint for the top, simple wood rosette, purfling and binding along with a pyramid bridge and diamond and dot position markers.

Jon had this walnut Torridge shipped across the US from Shoreline in Colorado to North Carolina, he said " WOW.  I've probably owned over 200 guitars in my lifetime (I used to buy and sell), but this is by far the best guitar I've ever owned.  Incredible workmanship, and the tone is…I don't know, it gets inside me.  Just WOW.  Not ever selling THIS one!" Thanks for the kind words Jon!

This Lyn and a Tamar went up to Intersound last week,

The Lyn (above) is Bubinga and sitka and the Tamar (below) is ovangkol and cedar.

Marcus and Nitin are part-way through their latest tour, they dropped in to see us again and we were really pleased to have another impromptu performance.
There's still an opportunity to catch them at the following venues:

Here's a picture of Mack with his owner's new Torridge, we featured Rob and Mack in the February news last year. Recently Rob decided to trade in his Clyst for a bubinga Torridge he'd seen in Coda. He loves the new guitar, he had some regrets about letting the Clyst go and checked Coda after a few days about maybe buying it back but it had already found a new home. It's a slippery slope Rob – one Brook's  never enough!
As usual we've had more than our fair share of repairs and set-ups this month – one of our customers brought in these four and I worked my way through them one busy afternoon.
We replaced a worn bridge-plate on this 1970's Gibson MK53.
.
Andy worked wonders with this Martin which had a major split along the ribs.
He's part way through some interesting repairs, we'll show you the results next month!
April News 2019
We're pleased to announce the sixth issue of Babbling Brook is now available, you can download it here, you'll also be able to download it along with previous issues on our homepage.

We have an in-depth interview with Steve Tilston, our collectors feature and a look at Celtic Chords in Stonehaven, an article on some of the more unusual guitars we've made outside our standard range, a brief explanation of how the new CITES legislation affects guitarists, along with tab for 'A Place For Solitude' by Phil Taylor. As usual many thanks to Martin Bell for all his hard work, hope you enjoy it, any feedback will be most welcome!

Adrian came down from Berkshire to buy the walnut and cedar Tamar we had in stock, it was a toss up between this one and a walnut Lamorna in Project Music  – the Tamar won out this time!

Chris also had a similar dilemma: he'd come down to look around the workshop and try some guitars before Christmas. He recently went into Intersound and was torn between a Taw and a Lamorna, eventually the latter got his seal of approval! He sent us a message "I'm constantly astounded by the quality and consistency of your guitars. They are the bench mark that I judge others against. I've yet to play anything that enjoy as much as these". Thanks to Sam, aged 6, for the photo!

You may remember this spalted sycamore Taw we recently sent out to New Zealand, Matt got in touch to say "It's arrived, and is even more beautiful than I had hoped".

Coincidentally – we've just been sent this photo of Alex playing his Bovey by Lake Taupo in New Zealand. Thanks to his daughter Kora for the photo.

Closer to home, Len picked up his rosewood and Sitka spruce Taw and looks delighted with his new Brook!

Mark brought his 000 shaped Newlyn over for a set of strings, we've only made a couple of these….so far.

Here's Matthew in Stourbridge with his cat Charlie, along with a ten year old Clyst he's just acquired, he'll be coming down our way in August so he's going to call in to the workshop then.

Several years ago we made a striking black Tamar for New Zealand born, London based singer/songwriter Louise Loft (that's the third N.Z. connection this month!) Louise decided it was time for another Brook.

A few years ago we had a vintage 1950s Gibson 185 through the workshop and took a drawing from it. Louise liked the look of it and we'd been waiting for the opportunity to add this shape to our range so we made up a mould in preparation for the, as yet, un-named new model!

As I've got my new Lamorna John here asked if my old Taw was for sale, I reluctantly agreed – it's the seventeenth Brook in his collection, which now includes several which were my personal guitars!
This Bovey came in for repair, damaged while builders were working on the owner's house, Andy managed to glue the top back and replace the broken binding.

I've just re-fretted this Ovation and it reminds me of why they're not amongst my favourite instruments: you can't hold them down on the bench to work on them, you can't release the strings to work on the saddle and bridge, the saddle is integral with the pickup so changing the action is a nuisance, they slip off your lap when you sit and play, I could go on…..and on……
but I'd rather not end this month's news on that sort of note!
March News 2019
Andy made the trip down from Hertfordshire to collect his highly customised Tavy, dedicated to his late father with his initials on the 12th fret.

It has a stunning variegated cedar top, figured English walnut back and sides, sound-port, along with abalone Celtic knot inlays, rosette and trim. Andy's really pleased with the result and already contemplating his next Brook!

Barry came down from Oxford to pick up his tasteful cutaway Lamorna –

With dark rosewood binding and purfling, custom bridge with stained black saddle and nut

And this rather nice set of heavily flamed Australian blackwood for the back and sides.

We made this Tamar for our shop, the majority of woods are  non-tropical, the only concessions are the ethically sourced Crelicam ebony we use on all our guitars and reclaimed mahogany for the laminated neck and back struts. The top's cedar, the back and sides are figured English walnut and the binding and heel-cap are lacewood – London plane, cut on the quarter.

The latest four guitars for Project Music are nearly ready now: a bubinga Taw, a walnut Lamorna, a rosewood Taw and a walnut Torridge.

I thought it was about time for a change so I'm moving on my old Taw and have gone  for a Lamorna this time!

Very plain with simple appointments, an Adirondack top and Indian rosewood back and sides.
I'll be spending most of April playing my new
Lamorna

in but hopefully also get enough work done to put together something for next months news!
February News 2019
First off the post this month is this Taw, heading off to New Zealand shortly.

The spalted sycamore came down in a paddock just round the corner from Andy's home in the village of Sandford!

Here's a close up of the back, plenty of variegation as well as flame!

Mike, from the New Forest, picked up the cherry Tavy 12 string we featured last month.

Another guitar we featured last month was the Macassar ebony Lamorna, collected a couple of weeks ago by Gary who came down from Dorset.

Rose brought down her custom Lyn for a tweak of the truss-rod. It's not often you get more than a wry grin out of us two old buggers but we all cracked a smile over Andy's quip along the lines of 'a rose between two thorns'…… though slightly more offensive about us both – and slightly more amusing!

Rose has been setting up gigs again recently and will be playing with Ian Holleran at the Plough Arts Centre in Torrington on April 12th.
Keith's up in Cumbria, he bought his Torridge from Project Music in Exeter, he wrote – 'I want to thank you for making such a lovely guitar. I'm a little different, being a one- armed/handed guitarist after a serious motorbike accident fourteen years ago. I've persevered and managed to develop a style of playing that works to a level, with both electric and acoustic guitar. Once again thank you for making such a lovely instrument.'

Here are more photos of Chris with his Tavy and Teign performing around his home town of Tavistock. Photos courtesy of Jac Flash Photography.

Jan popped down from North Devon with a fine hurdy gurdy and lute handmade by a relative of hers, we did a little research, ordered a set of lute strings and put on a couple of temporary ones until the new set turn up.

We took delivery of a massive board of old stock Brazilian mahogany which we've been cutting up for necks, back and sides.

We also ordered up this superb top, back and sides set of koa for Wolfgang in Zetel, Germany who's asked us to make a Lyn for him. The koa was sourced and supplied by Joshua Rose, a native of Hawaii who's relocated his fine woodworking business to Devon!
We should be able to show you the completed guitar towards the end of the year!
January News 2019
Mike's planning on coming across from the New Forest to pick up his new Tavy 12 string in a couple of weeks,

Here are close ups of the cherry back and sitka top, the binding is rosewood with a yew rosette and also yew purfling.

Mike asked Jack to inlay this sparrow hawk on the headstock using local woods.

We've just strung up this Lamorna for Gary in Dorset
Based on the O.M. shape this one has a stunning Macassar ebony back and sides and finest grade Swiss spruce soundboard.

We inlaid this abalone torch design in the headstock.

Three new guitars for Intersound: (front to back) a Creedy, Lamorna and a Taw.

The woods (front to back again) cherry, rosewood and red gum.

Mauro, in Foggia, sent us this photo of himself with his new Torridge

Along with some pictures of the stunning area of Southern Italy where he lives.

Andy's been spraying the latest batch of Brooks

He's also spraying a sunburst on this fine yew Strat made by James Millman.

We've just repaired the bridge and splits ribs on this lovely 1925 koa Martin.

Richard sent us this photo of his music room to remind us about the Bovey we built for him back in 2002 and the Taw a couple of years later, he's promised to pop in and see us again this year….

Jake has just finished his course in music engineering and production, he's joined our small team to see how he gets on with guitar making!

We've just re-fretted this Fylde and still got a couple of Strat refrets to fit in before the end of the month!
More next month!