December News 2014
It's been a busy month again. We got couple of batches of guitars out to the shops We completed these three for Ivor Mairants in London,
Then we delivered these five to Project Music in Exeter.
Dave Smith came down for the mahogany Torridge he'd ordered, Dave asked for a rosewood fingerboard, bridge and head veneer.
Here's a full length photo,
And a close up. It turned out a really nicely balanced, lively guitar!
While our weather is getting cooler Marcus headed out to India again for a gig in Mumbai!
Simon Boulter came down from Bristol for a set up and a pickup on his twelve year old Taw.
We also did a set up on this beautiful 015 maple Torridge we made back in 2003.
This is one of our favourite sunbursts of all the guitars we've made over the years.

Steve had a fairly drastic headstock break on this Taw,
We got it back together, you can't see the damage and it's playing like new again, Steve was really pleased with the result!
Here's an interesting project – Marc sent us this fine David Oddy tenor guitar over from Switzerland. He found he wasn't using it as a tenor and asked us if we'd make up and fit a short scale six string replacement – more of this next month….
Season's Greetings to all our readers and see you next year!
November News 2014
We've just seen the first frost of the year and the orchard was white when we arrived this morning.
A couple of weeks ago we sent this custom Torridge up to Richard in Nottingham,
Richard had sent us this design to inlay in the fingerboard.
We'd found enough of this very old yew to make up a three piece back.
These four Brooks, an OM, Teign, Taw and Lyn, were collected by Mike from Project Music in Exeter,
Amongst them was this left-handed rosewood Lyn custom ordered through the shop.
Here's the Lyn along with another standard one an early stage of the build, showing the different bracing for the left-handed model.
The customer wanted a rosewood head veneer and Waverly tuners.
John here has a busy touring schedule as lead guitarist and singer with Dire Straits tribute band Dire Streets, He popped in to see us on the way down to their gig at St Ives Guildhall with the intention of ordering a walnut and cedar Taw – but couldn't resist this Tamar.
Looking at the unusual figured oak back it's not hard to see why!
This red gum Tamar is going off to Julie in Gloucestershire who custom ordered it through Intersound in Dursley.
Here's a photo of Roseanne Ball playing her Lyn and in character for her Halloween gig at Tapeley Park in North Devon!
This month we saw a couple of our older instruments: Cams dropped in the Bovey we'd made for him back in 2003 for a set-up and some remedial work on the way down from Arran for a short holiday in Cornwall with his family.
We built this cherry Tavy for Rhyd in Whitstable in 2004, we've just had it back to give it a complimentary set up, the tone has developed over the years and it's playing and sounding even better now than when it left the workshop!
A new guitar still thinks it's a tree … but a played one knows it's an instrument!
October News 2014
To start off the October news I'd like to point you towards two new galleries we've just added. We thought it would be nice to use just black and white photos for these. Hope you like them!
Tony came over from the Isle of Wight earlier in the year to choose woods for this sitka spruce 015 Taw,
He chose Kew walnut for the back and sides,
He went for a sound-port and of course it's obligatory to take photos of the inside workings through it!
Tony couldn't come over to collect his Taw but sent us this photo. We try not to blow our own trumpet too much on the site but he sent us a message to say it was the easiest, nicest guitar he's ever played!
We've had a few international visitors and customers this month: We had Tommy over from Sweden specifically to see us and order a Taw, We had a Tavy order from Aaron in Australia and Tinker here came across from Norway with his family, he'd been keeping an eye on the site for many years and came over to order a Weaver.
Stephen came over from Switzerland to visit and bring along the Taw he'd bought from Ivor Mairants back in 2008, we were impressed that the action and set-up was still perfect after all those years.
This has to be one of the grubbiest Brooks we've seen on our workshop benches, It's a Tamar that came in for a set-up. I'm not naming names but the guilty party has been made aware that an occasional clean wouldn't go amiss! To be fair the guitar has spent a long time in hot and humid conditions in India where the unamed owner has been busy working on recordings with local musicians.
Here's the latest bubinga tenor uke, the owner's well into double figures with his collection of Brooks, hopefully a photo of Steve and some more information when he collects it next month.
Dave came down from Wiltshire to collect the latest two guitars for Shady Grove.
A walnut and Engelmann Taw along with a mahogany and cedar Lyn, if anyone's interested in these head off to Shady Grove via our Links page.
Now for a few of the many repairs we've been working on: This battered Taw came down from Brighton with a broken headstock and various dinks and damage, it's now back together, looking a lot better and back with its happy owner!
We also worked on these two fine vintage Nationals.
See you next month.
September News 2014
Roseanna Ball is a fine singer/songwriter from North Devon, she picked up her new Lyn earlier in the month, here she is playing the first few tunes on it!
It has a beautiful figured bubinga back

And a rosebud inlay on the 12th fret.
Rose asked us to soften the end of our standard slotted headstock shape with a gentle curve. We'll look forward to some photos and YouTube clips of Rose and her Lyn in action in future months!
Peter was interested in having a guitar made using some wood from his area. He drove down the other day to spec out an O.M. from this English walnut he'd sourced that came from Letheringsett churchyard in Norfolk.
Andy's sawing the walnut into sets.
These two Brooks went out to Urs' shop in Switzerland,
The twelve string Tamar has English walnut back and sides and the six string Taw has walnut with a cherry book-matched centre stripe.
Urs asked for a cherry blossom inlay and Jack designed this for the headstock.
We had a couple of nice ukes in for repair – a koa Kamaka to sort out some intonation problems and fit a pickup, and a vintage Regal for a neck set and new bridge.
Talking of ukes here's Tony Hazzard live in concert with his much travelled Brook in Hondarrabia, Northern Spain, not far from San Sebastian.
Phil and Anna were also gigging in Spain this month, Phil was using his recently repaired Tamar. Here are the before and after shots!
And here are some photos of Phil and Anna playing at the festival in Catalonia.
The tall lime tree outside the workshop was trimmed the other week,
That reminded us – it was planted in the early days of Brook Guitars, here's a photo of Andy and me in front of it when it was a little sapling, twenty years ago.
And another of us in front of it now!
We made this Taw for Paul about five years ago, he came back this month and we upgraded the tuners to gold Gotohs.
Pete from Celtic Chords in Stonehaven paid us a visit and picked up the latest maple Clyst for the shop.
Lastly – a couple of photos from the 'Guitars on the Beach' event at Lyme Regis which I went along to with my guitar,
Three and a half thousand of us got together with Ian Gillan to play 'Smoke on the Water' in the hot sun,
All of which was rather good fun!
August News 2014
We'll start the August news with a fine photo of Roger and his new Lyn 015 on the quayside in the Moray Firth village of Cullen. Roger's a songwriter and plays guitar with local band Heatherstay.
Here's a full length shot of the guitar

And a close up of the Adirondack top,
The reclaimed figured mahogany back
And the 015 trim headstock with Waverly tuners.
Stuart from North Devon came to pick up his new Torridge, living in Westward Ho on the Torridge estuary it was the obvious choice! We laminated the neck from mahogany boards that Stuart had acquired from a friend of his.
We inlaid two very personal designs on the guitar – A rose on the headstock for his daughter
And a monkey on the twelfth fret in memory of his son.
Here's Jack's drawing with the woods chosen for the design
Full length shot.
Rich came down from Bridgewater and bought the mahogany Torridge we had in the shop, we were very envious of his VW camper!
This Clyst has also just gone up to Scotland,
The second Adirondack top this month, it's probably the finest tonewood we know of. Hopefully we'll get a photo of Tim to add to next month's news.
The final guitar taking the trip up to Scotland this month is this sunburst twelve fret Teign.
I've just found this photo from a few month's ago – Martin Bell, the editor of our Babbling Brook magazine, came all the way down from Staffordshire to play a fine set at Okehampton Acoustic Club. Coincidentally – the club is situated right beside the Okement, the river we named Martin's guitar after!
As well as completing these guitars we've been fitting pickups and taking on some tricky repairs: We repaired rib damage to this Martin earlier in the month
But that was a fairly minor problem compared to what happened to Phil Bird's guitar,
A monitor fell on the cutaway side of Phil's beloved yew Tamar. Here's an unexpected view of the label! Check out next month to see how we fare with the repair!
A few months ago it seemed to be all Telecaster repairs, this month it appeared to be to be all Strats!
Here's a link to Steve Benford's website. He has some beautiful recordings of Carolan tunes, give them a listen here!
Over the last month we've been gathering a collection of Brook YouTube clips for our own channel. We hope the customers featured won't mind. Please get in touch if you'd rather not be included and let us know if you'd like us to add a clip featuring your Brook.
July News 2014
First of the mark in July is Shaun from Cheltenham who picked up the Tavy featured in last month's news.
Melvyn, from South London, came down and couldn't resist the cherry Torridge we had in stock.
John Stearn, another avid Brook collector and regular visitor, picked up his second rosewood Bovey. Here he is, making himself comfortable, in front of the workshop!
This Ian Anderson model has just gone off to James in Odessa, Florida.
These three Brooks are ready to go up to Intersound in Dursley,
From the left: an ovangkol Tamar, a bubinga Taw and a Yew Weaver.
Here's the latest Teign and Lyn for Promenade Music in Morecombe.
We made this Tamar as a bouzouki five years ago, the customer asked us recently to convert it to a guitar, here it is with the old neck!
We carried out some repair work on this fine Sobell cittern and a Harmony Sovereign for Jiggerypipery's Tony Bayliss.
That's it for the July news, for all of you preparing for a summer break, enjoy the sun!
June News 2014
We hope you're enjoying the new website; we're still working on it, please let us know if there are any problems and we'll try to sort them out as soon as possible. So far we've had lots of positive feedback from our customers.
We had a feature on Brook collectors in the latest Babbling Brook. Tony here is vying for pole position amongst them and is heading for double figures. His latest is thisTaw
He asked Jack to design a kingfisher inlay for the headstock
Diving for a stickleback on the twelfth fret.
The back was a stunning set of English cherry along with Brazilian chestnut using the same woods to laminate the neck.
We used this subtle red and black inlay for the rosette and purfling.
Talking of collections here's a photo of David Hornsby's family of Brooks up in Lincolnshire with his latest rosewood Lyn second from the left.
Shaun ordered a Tavy with this pearl inlay based on a pendant of his.
Here the inlay in situ showing the sitka top
And here's the red gum back.
John, a friend of ours, snapped up this second-hand Okement when it came up for sale,
he wanted a sunburst finish so we re-topped it and made up a new bridge.
Along with all the other custom work this month Jack also inlaid another
oak twig out of yew on a rosewood Tavy for Michael from Redruth.
OK – here we have two photos of two thirds of the 'Shady Grove' team. Freddie and Colin have set up a small arts cooperative in Hampshire combining artwork, recording, photography as well as planning to sell some high end guitars, including a few of ours. Freddie and Colin don't quite know if they should be serious musicians (left) or hedonistic rock stars (right) Any votes?
For those of you who have seen the interview in the latest Babbling Brook, Rosa Rebecka has a special concert coming up at the Phoenix in Exeter on 13th July. She'll be introducing the Levin we rebuilt that belonged to her grandmother, she'll be supported by The Resonance, a talented band of young local singers.
We completed this Tele style electric using superb Bare Knuckle pickups and parts, very cool!
Amongst the repairs this month we re-fretted this Les Paul copy and a Strat
And glued the bridge back on this highly decorated Tanglewood, then gave it a good set up.
See you next month!
May 2014
We'd like to let you know that issue 3 of Babbling Brook Issue 3 is now available to download from the homepage, we go into more detail about our customers,
collectors and some of the instruments we've made over the years, hopefully this will be of interest to you – let us know! Many thanks to all the contributors and particularly to Martin Bell who puts it all together.
Clive works in Luxemburg and came over to pick up these two beauties earlier in the month,
A sunburst Torridge and a Creedy,
The Torridge was made of exotic walnut and the little Creedy was made of the old favourite – the walnut from the tree that came down in Kew Gardens.
I've mentioned that we've been busy working on the new website
– here's a preview of the homepage, we're going to try and upload it in a couple of weeks so apologies in advance if we have any teething troubles!
Please let us know if there are any problems.
Another preview here, this Lyn is for David from Lincolnshire,
he'll be down for it next month and we'll get a photo of him then, but in the meantime here a shot of the figured rosewood back
And a full length picture.
Sandy took a 290 mile round trip to Celtic Chords to come back for this walnut Tamar,
Pete took this for us before Sandy left the shop for the long journey home.
Here's Tony Hazzard playing his Brook uke at the Cavern Club in Liverpool, He assures us that he didn't play a single Beatles number, Come on Tony you'd have to wouldn't you!
As for repairs – This month we were mostly working on Telecasters.
Finally – a photo of the orchard in blossom.
See you next month on the new site with a bit of luck!
April 2014
We've had a busy month getting the new Babbling Brook ready and also working
on the new website which should be a lot more accessible on tablets and phones.
We completed a Taw for Shoreline in the States and we've just sent that one out.
Chris saw the Teign we featured in the March news and couldn't resist it!
Another guitar we'd just made for stock, a Taw,
was snapped up as soon as we added it to the shop. Jamie, a fine player from Wiltshire, came over and went away with this one up.
Here's a full frontal,
A close up of the European spruce top
And a one of the English walnut back.
Two more guitars we've added to the shop are this mahogany Torridge
With a sitka top
And this Bovey.
We don't make many of these so we thought it was about time we bought this
ittle travel guitar to people's attention. Go to the shop for details.
Jack is on fine form as usual with this inlay as a memorial to Joan and John Middleton's spaniel on John's Lowden.
Leon and Rob came down to the workshop for a quick set-up, here they are with their two fine Tavys.
Gareth Hedges brought his vintage Hofner in for some repair work, we gathered some other arch-tops we have here together for a family shot!
We also reset the necks of these two vintage ukes for Gareth – an Alvarez from Spain and a koa Hawaiian soprano.
The finishing shop was given over briefly to spraying Andy's self-built
350 B40 BSA replacement frame before he put it back together.
Here he is on the 350 mile MCC Lands End trial over the Easter weekend.
Both Andy and the bike survived intact and Andy got a gold medal,
And here he is at the end of the trial at St Agnes with his daughter Xanthia who also got a gold.
We can't all be award winners but we'd like to thank all of you
who've chosen our award winning guitars!
See you next month.
March 2014
This month we've four rather special custom guitars to show you:
Simon came down from Nottinghamshire to pick up his drop cutaway Tavy,
Simon chose this dramatic cedar top
And matched it with the five thousand year old bog oak for the back and sides.
There's a walnut laminated neck with a heel-cap inlay relating to the carbon dating of the oak,
We used Jack's skills again with an oak leaf and acorn inlay in the fingerboard,
Here's a close up,
And one of the headstock with Gotoh antique gold 510 tuners.
A couple of years ago we made a fan fretted Tavy for Jake Moutarde, a fine young guitarist and songwriter from East Devon.
Here's a photo of him playing it recently at Mama Stone's in Exeter,
Here's Jake picking up his latest Tamar fan fret,
This time he went for a more extreme 630 mm / 660 mm scale length
with an offset oval sound-hole and textured percussive scratch-plate.
Here's a full length shot
And a close up of the back with the three piece ziricote and padouk back.
We continued the red theme with coloured purfling strips along with red saddle, nut and pearl markers.
Bob, as always, came up with a challenging design of his own:
His BC-1 model here had a sunburst Alpine spruce top with gold mother of pearl purfling, rosette and position markers.
Bob supplied the stunning Macassar ebony back and sides,
The maple bound slotted headstock is fitted with Waverly tuners.
Our fourth guitar is a Teign we've just built for stock using our one remaining set of, fairly plain, reclaimed Brazilian rosewood. This is likely to be the last Brook we make out of Rio because of the restrictions.
Jack inlaid this Harris Hawk on the headstock.
In addition to these four fine guitars this Taw and Tavy went up to Project Music.
Lee came to pick them up so we took a quick photo outside the workshop.
Steve came over from Somerset for his cutaway rosewood Lyn
.
We set up these two fifteen year old Brooks which are standing the test of time well and sounding great!
Tony Hazzard came to have a pickup fitted in his Brook uke.
This photo of Tom Cutler and his son Jed was taken on the South Downs by James Clarke,
Jed's playing the banjo and Tom's playing the custom parlour guitar we made for him a while back.
We haven't had much time to sit and strum though, As you can see it's been a busy month, We'll round it off very nicely with two of Phil Taylor's latest videos,
The first with his Torridge and the second with his Lyn:
February 2014
Bendigo braved the floods to pick up his new Lyn Here he is amongst the snowdrops in the orchard. Note the Brooklyn tee shirt!
Here's the ziricote back
And the 'V' decoration at the tail end shows off the great combination
of the ziricote framed by the koa binding.
Laine brought us down this excellent fruit cake designed for the occasion,
not forgetting some very welcome fine wine to toast the new baby!
Here's a full length shot showing the torch inlay and abalone purfling which also surrounded the fingerboard.
This Tamar has just gone out to Urs, our Swiss distributor,
Urs supplied the renowned and rare Alpine 'moon' spruce,
The headstock sported the fancy Roberts tuners. The fingerboard, bridge and head veneer were bog oak
Along with the back.
As you can see from the headstock of this little Creedy,
it's another guitar we've completed this month with a bog oak fingerboard, bridge and head veneer,
We've used the 'fruit & nut' combination again with a mix of Kew walnut and cherry,
Chris from Oxfordshire asked for his name on the heel cap to match to his last Brook, a Taw.
We had to fill the old saddle slot and cut a fresh one on this
1970 Zemaitas to improve the intonation.
This is just one of a number of vintage guitars owned by guitarist Gareth Hedges
who's plan is to record his next album using as many of his collection as possible.
This collector's instrument has the shallowest neck profile we've ever come across on an acoustic.
Here's that re-spray we showed on the bench last month. We have here a Manson body based on a Strat with a Jerry Bix neck, Burns Brian May pickups,
resprayed black by us. That makes it a Mansobixoburnsobrookocaster doesn't it? Lucky we didn't have to inlay it on the headstock!
We haven't suffered as much as Somerset with the floods, it has come up over our bridge a few times though, here are a few photos of the brook in full flood!
As you can see it made access to the workshop a little tricky
And we lost a couple of mature trees which ended up mid-stream
Over in the States bad weather was the culprit when Julie Watson's Taw survived being filled with water when a pipe burst due to severe freezing, luckily, with some careful drying out, the only sign of damage was a little discolouration down near the tail end – it definitely puts a good case for modern glues and finishes!
Some more fine playing from Robbie to end the February
news –
a hurdy gurdy tune
January 2014
We had a welcome winter break and came back in the New Year with the resolution of getting the bulk of repairs that had been building up out of the way.
First of all though we had to complete these three instruments for Forsyth's in Manchester,
And these two, a walnut Tamar and a bubinga Torridge for Celtic Chords,
They'll be going up to Stonehaven in the next couple of days.
I thought I'd start off this year's news by giving you a quick trip around the workshop and give you a snapshot view of what we're up to right now.
No artificial tastefully arranged wood shavings,polished chisels or expensive miniature planes, just simple photos of what's going on.
Jack's working on the next batch of Brooks, here are the sides on his shelf,
The tops and backs are in the drying room
And he's preparing the bracing on his bench.
Kevin's cutting out neck blanks and sanding the bodies ready for dovetailing.
He's clamped the head veneers onto these necks
And here are more bodies in the process of being sanded.
Upstairs in the spray room Andy's getting ready to spray. I've just carved the necks and given the guitars a final sanding,
He's just taken out a midi pickup, resprayed and polished this Manson electric.
Andy's also working on resetting the neck angle on this Dobro
While I've been setting up this ornate banjo.
In our display room we're currently working on two sets of plans for a new guitar shaped mandolin and an octave mandolin.
Back to those repairs: We glued the bridge back on and re-fretted this Gibson, and fixed a broken headstock on this Lowden,
This old Guild 12 string received a well deserved neck re-set and is now a good deal more comfortable to play!
Well that's most of the repairs out of the way, with a bit of luck we'll be able to concentrate on building Brooks next month!
This month's links include two videos with a theme: Robbie starts us off with the seasonally apt
The Month of January
Next Phil Taylor takes us back to A Week in September inspired by a trip to Cornwall last year which coincided with him picking up his custom Lyn.
Paul Rogers sent us a link to this fine song of his
Come Over To Me played on his Tamar
Steve Moutarde sent us this link to his son Jake's site, Steve's been working on this animation of Jake's fan fretted Tavy.
See you next month
20013
December 2013
Here are the latest four Brooks for Project Music in Exeter – front to back – a rosewood Taw,a cedar and mahogany Torridge, a rosewood OM and a walnut Tamar.
This might be a good opportunity to remind you of our take on the OM model for the American guitar enthusiasts out there, this one has rosewood back and sides with a sitka top along with the standard belly bridge and the traditional 640 mm scale.
This figured mahogany, sunburst topped Taw went up to Steve in Manchester.
We asked for a photo of course –
By the way – we're not far off completing three guitars for Forsythe's in Manchester.
Good to see our bog oak Taw made it into the top 20 guitars over £1000 in 'Acoustic'!
We were also featured in a couple of books this year, the latest was '365 Guitars, Amps and Effects You Must Try' by Dave Hunter which featured the Clyst.
We've just completed this Ian Anderson model for a customer in Italy.
We reset the neck, made a new bridge and repaired splits on this Fairbanks made in Boston, Massachusetts in the late 1800s.
Another Les Paul headstock repair completed, this one was tricky as someone had previously had a go at it
John, our American distributor at 'Shoreline', put up a couple of reviews of our guitars
We'll end the year in traditional style with these two carols beautifully arranged and played by Robbie.
We'd like to wish all of you who check out our news every month a very happy Christmas, winter solstice or whatever you celebrate the end of the old year by. We'll see you in the New Year with the latest Brook news.
November 2013
It's November and getting colder again out here hidden away in the wilds of the Westcountry.
It's been a busy month with some interesting guitars to show for it.
Here's another of Jack's fine inlays of a Kestrel for Iain's Teign,
Iain came down from Hampshire to pick it up earlier in the month.
This black beauty was ordered by Louise Loft,
As you can see by the fingerboard inlay.
Jack's inlay of a tiger takes care of the Tamar headstock.
Louise is a singer songwriter from New Zealand livingin London
We took Louise up on Dartmoor one misty Saturday afternoona couple of weekends ago to take a few photos with the new guitar.
Thanks to Melissa for the photos Melissa Till Photography
A couple of years ago we made a nylon strung Lyn for Rosa Rebecka, she used it on her last album 'Mrs Beautiful's Guitar'.
The title track is about her great grandmother's guitar which has been passed down through the family. The guitar is one of the very first Levin parlour guitars built in 1902. It had suffered from wear and tear through the years.
We had to rebuild it, re-set the neck, re-fret it and make up a new bridge.
Here's a photo of the inside after some of the repair work!
Rosa Rebecka recently presented a concert at the Cygnet Theatre in Exeter introducing the newly restored Levin and guested on local radio to talking about and playing the guitar.
You can get a free download of the title track of her album here
John here came down from the Yorkshire Dales to collect his Torridge.
When he originally came down to place the order he was inspired by the snowdrops in the orchard for the theme of the inlays.
Here's a close up of the headstock
And a top to tail shot of the guitar showing the fingerboard inlays,
He picked out this great set of figured Indian rosewood for the back and sides.
We shipped this short scale Torridge out to Marc in Australia.
It has very nice figured walnut back and sides
To help keep the average age of our customers on our newspages down a little
Marc sent us this photo of his son Claude in their backyard with the guitar!
Who's this scruffy so and so picking his new guitar?
Oh – it me, with our new Weaver model!
The Weaver fits a small parlour size case, it has a standard 630 mm scale length and sits between the Creedy and the Clyst in size. Oh – unfortunately that's bought the average age back up again!
Now for an extremely well executed project by Andy:
We've have some strange requests over the years but this is one of the more unusual ones – Rich Hamer, a fine young guitarist from South Devon, was having shoulder problems due to the depth his seven string Eastman jazz guitar. He asked us if we could make it narrower. Here's a compilation of some of the photos we took of the job and the result.
A quick round up of some of the Brooks seen out and about this month,
clockwise from top left – Robbie, Colin Shaddick, Martin Bell and John Hegley with Colin.
Well I have to apologise for the length of this month's news, there was rather a lot to fit in!
To round it all off –
Here's a late afternoon Autumn photo taken a couple of days ago
of the view of Nymph Woods from the window of our workshop.
See you next month.
October 2013
You may remember the black Tavy we recently completed. Ben Maggs already has a standard Tavy but was particularly interested in one with a cutaway, We tweaked it for his favourite open tuning and he took it away with him!
Here's Ben with his new guitar recording at Rockfield Studios, check Ben's site for news on release dates, we'll let you know as soon as we hear.
Julie Watson from Baltimore flew over to visit her mother in Wales
and came down to the workshop to see where her Torridge started life. She was so taken by the yew Taw we had for sale that we had to send it out to her!
This is the latest instrument for Mike Selley. As Mike's M.S. progresses it's getting more difficult and painful for him to play standard guitars so he asked us to build him a nylon strung tenor guitar.
We adapted Mike's original ideas and came out with this Art Deco inspired instrument.
Keeping to a black and white theme, we built the entire instrument with ebony, maple and European spruce and decorated it with a suitable fingerboard inlay.
Mike came down to pick it up and got in touch the other day to tell us how much he's
enjoying playing it, he's had a great response from everyone who's seen it. We'll go into more depth about the building of this and other instruments we've made for Mike's collection in the next Babbling Brook.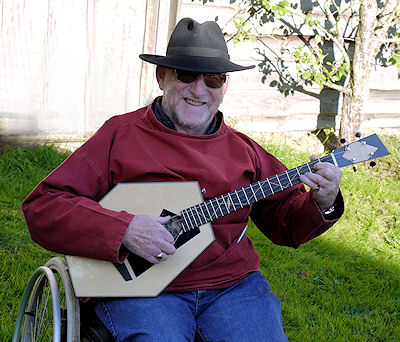 Paul and his wife run the beautiful Wensleydale Farmhouse as a B&B in North Yorkshire. Paul has named all the rooms after his favourite guitars, he told us he'd reserved Brook for the best room!
Paul!
Colin sent us these photos of the latest two guitars we sent up to Intersound.
Songwriter Paul Rogers came down from Wiltshire for a set-up on his Tamar.
We sent this mahogany Torridge out to Shoreline in the States.
Here's TV's latest offering – a live studio recording of some of his best songs with just his Taw and vocal.
It's available through his website, at live gigs or you can listen and download it through Bandcamp
Acoustic Sessions Volume 1
Now for a couple of videos:
Here's Donald Simone in Dubai showing that his Lyn can cope with the high temperatures
And Symon Paul with his tale of the Wheal Eliza Mine showing his Clyst can cope with some inclement Exmoor weather!
September 2013
Phil Taylor is a regular YouTube contributor with his Torridge, he came down from Oldham to pick up his new Lyn,
Phil went for a cutaway this time with a sound-port, we found a particularly fine set of figured mahogany with snakewood binding,
A tasteful simple abalone inlay on the 12th fret
And snakewood Waverly tuners to set off the slotted headstock.
Carol came down from the Midlands for her new Little Silver, she wanted a small guitar she could travel with and sent us this photo from the Cornish coast!
Here's the stunning English walnut back.
Next this month we have three guitars that have just gone out to Urs' shop in Switzerland. Urs asks us to construct the guitars with non-tropical woods so first off to him was this yew Creedy,
With this beautiful yew back with grain which follows the body contour.
The next two to go were the Clyst and the Lyn,
Kew walnut with a walnut neck and yew with a maple laminated neck.
The three guitars had bog oak fingerboards, bridges and head veneers and were equipped with the exclusive Robson tuners.
Urs sent us these photos when they arrived,
From the rolling hills of Dartmoor to the dramatic backdrop of the Alps!
Tony was up from Bridport to pick up his cherry Torridge,
A little personal touch – his name inlaid on the 12th fret
And this Hipshot D-Tuner.
Now for some YouTube videos –
Pete's playing his custom Tamar, Here are three excellent new recordings
We recently refretted Shaun Reeder's Ibanez Les Paul Recording model, he sent us the link to his own composition here using the guitar
To round of this batch of videos, I've just come across this really nice version of Dylan's 'Buckets of Rain' arranged by Dave Thorpe playing his Clyst.
"My biggest fear is when I die my wife will sell my guitars for what I told her I paid for them" Ring any bells boys!
August 2013
For the first time in several years we've been enjoying a sunny August, It's brought down a steady stream of visitors to the workshop. Andrew came down from Gloucestershire to pick up this fine Tamar, Here his is enjoying a moment with his new guitar accompanied by his son Rory!
We kept the decoration on this instrument quite understated. With Rio back and sides and the same for the rosette, binding and purfling,
Topping it off with a bound Rio head veneer, sporting Waverly tuners.
Al runs a bespoke carpentry firm and came to us to make him his first 12 string, A rosewood and sitka spruce Tavy,
He asked Jack to inlay this skull and crossbones on the headstock.
This beautiful bubinga Torridge had a red theme throughout; We used a mixture of red and black purfling
Along with bubinga for the rosette and the top border.
Colin works in a music shop so he knows his guitars, He came down a while back and ordered this rosewood and sitka Taw.
Julian came over from the Isle of Wight for a set-up on his Taw and Bovey.
Jim turned up with the very first Manson Traveller we made many years ago, We were pleased to see it was in immaculate condition and was still extremely comfortable to play.
Keith and Richard here can be seen gigging in North Devon with their Teign and Tamar respectively!
Don Brooklyn was so pleased with the guitar we made for him he took his stage name from his Brook Lyn! He sent us three of his latest songs
'This is my Life', 'Come on Home in a While' and 'Craigbuie Hill'. Very good they are too!
Mike Wilkins plays this Martin Simpson tune on his Torridge.
Lastly –
A little Summer madness with Ryan Hamilton playing his Taw with our favourites, Bert Miller and the Animal Folk
See you next month with the latest about Mike Selley's unique angular tenor guitar which has just come out of the spray room!
July 2013
With the hottest spell for many years it's certainly been warm here in the workshop. Steve picked up his mahogany Little Silver; it puts Steve's collection of Brooks into double figures!
Richard is only on his first – this bubinga Taw with a maple neck, but he's already expressed interest in another!
Mike bought his Lyn from Oasis, he came down with it to collect the Gibson and Bell-Tone we'd repaired.
Earl also got his Taw from Oasis and came down to have a pick-guard fitted, we were happy to make one up for him.
Dave came over for a set up on this Manson we'd made many years ago,
it was one we'd built in the first couple of years of starting Brook Guitars, I'm glad to say after a good set up it was playing beautifully,
Here's Dave showing off the Magpie's rather spectacular Rio back.
I've previously mentioned Mike Selley's latest instrument, here's a batch of photos of the latest progress!
Ian Anderson uses the guitar we made for him in huge auditoriums all over the world.
Surely just as worthy of a photo though is Pat here with his replica of Ian's guitar accompanied by his son Brandon on percussion when he was asked to play in a Las Vegas furnishing store!
Here's James in the last stages of building his guitar
with us,
he chose to build a Lyn with a sequoia
top, a solid headstock and a pyramid bridge.
James came to us with the benefit of having very good hand-skills having joinery experience and has produced a superb instrument. He's also a very fine guitarist – we hate him!!
We fitted a Benedetto pickup with discrete tone and volume controls and jack socket to this unusual Roger arch-top,
It was quite a tricky job to get all this in neatly and sit correctly but it worked very well indeed.
Paul Downing got in touch to tell us he's put up a short video of his fretless Otter
bass in action
Robbie recorded this Scottish piece on his 12 fret bubinga Tavy
Robbie has offered to tab this out for the next of our issues of Babbling Brook
On a sadder note here's a stunning composition written by Robbie as a tribute to Eric, a friend of his, who died recently.
June 2013
We've a few guitars recently completed awaiting collection, hopefully we'll be able to include the new owners in next month's news!
Here's the latest instrument for our old friend Steve Bennett, Steve's had about ten guitars made by us over the years!
He wanted a vintage look to this all mahogany Little Silver, we used 'Golden Age' tuners on the slotted headstock.
This bubinga Taw with a maple laminated neck is waiting for Richard from South Wales.
Here's an interesting monochrome cherry Tavy,
Dove inlays on the fingerboard
And ebony tuner buttons.
Next we thought we'd give you an idea of the variety of other things we've been working on recently: As I mentioned last month – we were replacing the injection moulded plastic bridges with appropriate ebony and rosewood replacements we'd made up – Here they are –
We've also had this rather worse for wear Gibson 160E in for a bridge repair.
These three photos are of a Japanese 'Foto-Flame' Fender Strat,
the finish had started to detach from the body and was split in a number of places, it's being prepared for a solid black gloss finish.
We carried out some essential repair-work on this Bell-Tone and it's now playing really sweetly again.
Here's an interesting commission from another of our friends, Mike Selley,
This design is a combination of Mike's original ideas for a nylon strung
tenor guitar and our own. We're using maple and ebony to create a strong contrast for this unique asymmetrical, angular instrument.
From plan to inception!
Here's the first showing of a new addition to our range, another parlour guitar.
It fills the small gap between the Clyst and the Creedy, It'll have a 12
fret, 630mm scale length and will come with a perfectly fitting small parlour case.
Thanks to Bernard and Dale for their photos with their recently acquired Brooks to add the this month's news.
Rich and his Ian Anderson guitar continue touring the cities of North America with The Madow Brothers, here he is with Dave outside the PNC Arena in Raleigh, NC
We've featured Ewan D.Rodgers before with his Lyn,
Here's a video of him playing 'East Virginia Blues' from his last album
Tomorrow Might Be Monday'
May 2013
Well – one or two days at last to remind us of summer weather! Alan came down from Derbyshire to pick up this little Creedy
With a pyramid bridge and 623mm scale length
And this pretty yew for the back and sides.
This rather special Torridge went up to Lizzie in Hampshire, lots of custom work on this one,
Pearl and ebony rosette, custom bridge,
English walnut back and sides, walnut laminated neck
And custom headstock shape with pearl inlay.
Simon from North Devon bought this Torridge we had in stock and is finding it ideal for his gigs.
Our mate Roger came down to pick up his Martin we'd been repairing and brought one of the first 12 strings we ever made down for a set up.
Here are some of the other repairs we've been working on recently: We reshaped the neck on this Brian May guitar, reset the neck on a 1929 Martin tenor,
He-fixed a broken headstock on a Gibson Flying V, refinished this Harmony Stratotone in the original colour – and – whatever were they thinking of when they came up with this plastic bridge for their '60's B25?? perhaps not Gibson's brightest idea! We're making up a replacement ebony bridge for it.
I'd like to introduce to you a new release I've very much enjoyed playing recently by Marcus Corbett, an extraordinary guitarist who's recorded in India with two of India's finest tabla players.
Here's one of the many reviews: ' with his deep affinity with Indian classical music and his expertise in soulfully conveying its essence on the humble acoustic guitar. … where other guitar maestros have dipped their toes…. he's taken the integration a stage further and his collaboration with tabla virtuosos Nitin Gaikwad and Sharanappa Guttaragi on this disc is both fiery and rewarding.'
We made his Tamar from rosewood he brought back from one of his many visits to the country.
Checkout video of Marcus here
Listen or buy on Bandcamp here
~~~~~~~~~~
Here's a photo of Ben Maggs performing with his Tavy at the Stroud Fringe Festival
And check out this video from a show he headlined recently in Cirencester.
~~~~~~~~~~
Lastly – a sad farewell to the master guitarist and ethnomusicologist Bob Brozman
He always was and always will be an inspiration.

April 2013
We're really pleased to present our latest issue of 'Babbling Brook'
This issue has twenty pages and includes in-depth articles on the art of inlaying, Interviews with two superb guitarists – Steve Yates and Phil Bird. We also give advice on how to keep your Brook playing as well as when it left the workshop!
We'd like to thank Martin Bell and Robbie for all thetime and effort they put into getting Issue 2 together.
You can download it here or on our homepage
And now for the rest of the April news…….
Richard, one of earliest customers, came down to pick up his latest order, this time a trio of instruments with matching woods.
The three had finely figured mahogany back and sides,
With Adirondack spruce tops
And Jack cut these Celtic knot inlays for the two cutaway Lyns.
Rob came to see us to have a Fishman Infinity fitted in his cutaway Lyn,
here he is in the orchard with his two daughters Gwen and Jess.
David from South Wales picked up his cherry Tamar.
Trevor, a local singer with the Wren Trust, came over for his new baritone Tamar,
Coincidentally Rebecca, who also works with the Trust,
popped over with her nylon strung Torridge.
class="RofMill">We compared Rebecca and Trevor's hand sizes in this photo and I guess it helps explain why 'off the shelf' guitars aren't always the best choice for individual musicians!

We built this Tamar for Paul Keeton back in 2001,
here he is playing at the Victoria Club in Mexborough. He wrote to us saying "This guitar has to be one of the best things I have ever bought, 12 years of pure enjoyment. Many thanks for your craftsmanship and dedication to making fine guitars". Thank you for your kind comments Paul!

We repaired Steve Tyler's cittern. Steve's band Woodwose play a mixture of medieval and original music using a range of traditional instruments.

See you next month!
March 2013
More floods brought the level of our little brook up again,
We're looking forward to the real start of Spring.
Here's Jack's latest inlay of a Harris hawk on the headstock of a Taw,
It has a nicely figured Indian rosewood back
Along with a fine grained sitka top, the guitar is going for £2450, if anyone is tempted just get in touch!
James bought a Rosewood Teign from Soundpad.
He's also spending some time in the workshop learning some guitar making skills.
Steve Broom traded his Gibson J45 for this walnut Lyn.
Bob came came over to collect his Okement which we made for him some years ago, he fancied giving it a face-lift and asked us to re-spray the top a dark aubergine colour.
Here are Chris and Matt Miles in Thunderbird Park in Victoria, Canada with their collection of Brooks.
Matt put together the short film on our home page when he was in college
and has since gone on to make a name for himself in the music world over in Canada and the States as a film maker!
They say imitation is the highest form of flattery, hmm…We were informed that there are these counterfeit Brooks being made in China.
Just a warning – although the name's the same and the logo and website address are similar
– a quick glance should tell that these guitars are nothing whatsoever to do with us.
Melissa and I had another great weekend at the RMMGA annual meeting in
Chewton Mendip, here are just a few of her photos of the occasion:
A small display of authentic Brooks!
A wide range of guitars and playing styles,
Michael Watts playing my old Radiotone uke,
Adrian Lucas, John Buckley and Tom Doughty warming things up on a cold Sunday morning,
The inevitable raffle…..
I even found a quiet moment to have a play on my vintage Gretsch tenor guitar.
Keep up the playing and see you next month!
February 2013
The majority of this month's guitars have gone to our shops – These three – a Taw, Torridge and Tamar are now at Ivor Mairants,
A rosewood Teign and cherry Little Silver were delivered to Guitar Classics,
Freddie from Oasis came down with Dave Smith to take another batch back up to the shop.
A mahogany Torridge went up to Manchester as our first order from Forsyths,
And this mahogany Teign and a red gum Tamar went to Intersound,
Here's a close up of the rather spectacular red gum!
Robbie's back on the same tree as in his previous photos
when he was collecting his yew baritone Tavy and the cherry Tamar! This time he's here for his new 12 fret, long scale Tavy.
This beauty was built around a particularly fine set of figured bubinga back and sides,
we also used bubinga for the purfling and rosette. Robbie commissioned this one largely for DADGAD tuning.
Don't get us wrong – We're not subscribers to the old banjo jokes but six banjo repairs in a month!! Too much for the sanest of us and we love the things! We've also worked on two vintage Gibsons, a couple of old Martins, an Antoria jazz guitar and this sweet little Manson Traveller we made many years ago.
If anyone was tempted to buy a rather expensive magazine called 'The Acoustic Guitar Bible' recently you may have come across a very old article on our friend Roger's guitar collection, two of Roger's Brooks were included but his Lyn and Little Silver weren't. If you weren't aware of Davey Graham, Bert Jansch and John Martyn you might get the impression from the 'Bible' interviews that the three of them are still touring and recording, I fear I have to break the bad news – all three have unfortunately passed
on.
On a more positive note we had a good review of the first guitar we've made with bog oak back and sides in this month's 'Acoustic'. We sent this Taw out to Urs, our distributor in Switzerland, it sold within three minutes of arriving at the shop!
Out and about – here's Colin Shaddick playing his Lyn with the excellent John Hegley.
Bye for now!
January 2013
Well so far this year we've had floods, snow and ice, Hopefully that's the worst of the bad weather over with now! Andrew Mountain Pike is the concert and artist technician for Steinway so knows fine quality when he comes across it; here he is admiring his new Taw,
A few nice features on this one – ebony purfling and a pearl and ebony rosette
With another fine set of English yew.
John went to Ivor Mairants recently to buy a jazz guitar but came away instead with this beautiful walnut and cedar Torridge which took his fancy!
Mike from Texas bought a Taw and a Torridge from Shoreline, our
distributor in the States. Mike plays a lot of English folk guitar so he's delighted to use two English guitars! Here he is playing a medley of Irish tunes
Star of the County Down/Carolan's Medley
Some of our repair work this month included a comprehensive restoration of Dave's vintage archtop,
Sorting out the loose braces and a making up a new bridge on this rather worse for wear Gibson
And reshaping the back of the neck on this Little Silver.
And now we'd like to introduce you to the weird and wonderful world of Bert Miller and the Animal Folk,
We first met Ryan a couple of years when he bought a Taw to use with the band.
The debut album is now out – check it out on here
Bert Miller and the Animal Folk
We love these guys, if you get a chance go and see them play live,
Last but not least – check out Ryan's very fine solo album
We'd like to thank John Ackroyd across the globe in Oz for these black and white shots of his custom Okement.
John said he was cringing about the beer bottle photo
– I reassured him that for most of us beer is a helpful part of the music making process.
See you next month!
News 2012
guitars to get them to their owners before we take our winter break. Jamie, who's at Exeter University, picked up his yew Taw.
Frank came up from South Devon for his rosewood Taw
And Shaun, a teacher at the local school, picked up his rosewood Tavy.
Here's an unusual one for us – an electric. It's Bob's Honeytone Special. Bob designed it around the Taw,
It's kitted out with a couple of Pete Biltoft's very fine 'Vintage Vibe' Charlie Christian pickups,
With Steinburger gearless tuners and 'six in a line' headstock, it's an eye-catcher with a great sound.
These two, a baritone rosewood Tavy and a mahogany Clyst, went up to Ivor Mairants earlier in the week
And this yew Torridge went off to the shop Switzerland which has already sold two of the guitars we sent out a couple of weeks ago!
We'd like to wish you Season's Greetings and leave you with Robbie's excellent version of Dave Wood's sublime composition
May The Kindness
November 2012
Like the rest of Devon and Cornwall we've had our share of flooding this month and our little brook burst its banks several times and came up over the two wooden bridges. Luckily for us it happened out of working hours so we've still been able to get in to the workshop to bring you the November news –
Mike made the trip down from Cambridge to pick up his cherry Clyst
Here's a photo Peter sent us from Sweden of his Lyn.
We took on a thorough restoration of Robin Dransfield's 1930's Martin.
This is the guitar he taught a young John Martyn his version of 'Spencer the Rover' when he was touring with his brother Barry.
Here's Steve with the latest two guitars for Intersound,
A Clyst with Vietnamese rosewood and sequoia and a Lyn in golden walnut and sitka.
These are the first three guitars we've made for Urs Winkler's shop in Switzerland,
Urs wanted all sustainable, non tropical woods for these three so we used
bog oak for the fingerboard, bridge and head veneer, we turned some bone for the position dots and used boxwood, stained black for the bridge pins.
The Taw was cherry, the Creedy was yew and the Lyn was the walnut from Kew Gardens.
Here are the three necks in the same woods to match the backs.
Jamie came up from Falmouth College for a two week work placement,
the first week we had him doing the dusty work – a lot of sanding and preparing parts but during the second week he built himself a cigar box guitar.
Here's a close up, he's got the makings of a fine craftsman and we wish him well in his career!
I don't know if anyone remembers the old brochure we had before the days of the internet?
We happened to have one of the guitars pictured back here again – so, just for fun,
we decided to do a re-creation of one of the pages brought startlingly up to date!
Here's the original with Andy and his daughter Zoë…
Here they are fifteen years on – some aging more gracefully than others!
And we're pleased to introduce a new generation with Lewis, Zoë and Phil's lad, to model our guitars for the younger customer!
Check out Phil Taylor's version of Here, There and Everywhere
See you next month
October 2012
Our latest fan fretted Tavy is off to Paul on the Isle of Wight next week,
Hopefully we'll have a picture of Paul next month with the guitar!
Colin picked up this Tavy for Intersound,
Here's a close up of some particularly fine ziricote we chose for the back and sides.
This 015 Lyn will be winging its way off to Peter in Sweden in the next couple of days,
It's the first time we've been asked to build a guitar with a zero fret!
This cherry Little Silver is now up at Guitar Classics in Battersea,
The top is a rather nice set of sitka
Here's Rich Madow with his Ian Anderson parlour guitar in front of the theatre
in Virginia where he saw Ian Anderson using his to perform 'Thick as a Brick',
Rich's guitar has been played on slightly smaller stages all across North America –
Rich told us in the last two weeks he's played: Seattle, Washington, Portland, Oregon, Sioux Falls, South Dakota and his hometown of Baltimore, Maryland!
Back in the UK on a slightly smaller scale here's a shot of Tim Wilkinson
playing his Torridge at the Oxjam Festival in Bury St. Edmunds.
Just a little reminder of our Brook get together back
in July, here are Michael Dunnigan and Johnny Ramsay, joined by the inimitable Dave Wood on slide, in the early hours of the morning playing Michael's arrangement of
The Highland Faery Lullaby
And Martin Bell has just recorded his first video with his Okement,
it's an arrangement of David Qualey's
Santa Cruz
See you next month!
September 2012
We went up to the Acoustic Guitar Show at Olympia last weekend, Ivor Mairants had three
of our guitars on display including Jack's Nouveau Taw which drew a lot of attention.
This month we'll concentrate on a couple of really interesting guitars
–
Here's Robin with his Tamar fan-fret,
It's a 640mm/660mm scale length like our previous ones, this photo shows the bridge angle well.
We fitted a Fishman Infinity Blend system,
Here's the yew back bookmatched on the white sapwood, it's locally sourced, cut and dried here at the workshop.
Jack cut the inlay out of pearl – it's the initials of Robin, his wife and children.
Some of you may remember from the news we'd found an unusual couple of small boards of English walnut back in October 2011, well here's Leon who chose one of the sets from it for his long scale, heavily customised Tavy,
To continue the English woods theme we used bog oak for the fingerboard, head veneer and bridge,
Leon designed the rosette using this interesting elm burr veneer.
We can't leave you this month without showing you the stunning back
With a close up of the mitred flamed sycamore bindings.
See you next month with the latest from our workshop!
August 2012
We haven't had great weather this August but the sun was out when Bruno picked
up his Tavy, here he is along with a Taw he bought from Intersound last year ,
Here's the fine sitka spruce top
With reclaimed figured mahogany back and sides
And his surname designed and inlaid by Jack on the twelfth fret.
Andy came up from Cornwall for this long scale rosewood Lyn.
Colin and Freddie from Oasis sent us this photo of the shop with
the latest Torridge, Taw and Tamar we'd made for them
And Miek and Roel send us this photo of their duo performing at a festival in Ghent in July with Roel's Tamar.
Mike Selley's old dulci-guitar came in for a change of strings and a new pick guard,
It gave us another chance to check out this early otter inlay.
We had a Brook get-together last month with sunshine, food, drink and the finest players we know –
Michael Dunnigan, Steve Yates, Robbie, Chris, Phil and, of course, our favourite player Dave Wood were amongst the musicians who played plenty of great music for us.
Wizz Jones turned up with Sandy on his way back from playing in Cornwall and played a set,
Thanks Wizz!
Thanks to all for turning up making it such an enjoyable weekend and to Tom for arranging a very fine PA for the occasion.
Thanks also to Melissa for these photos, the pasties, the cream teas (and of course playing uke with our band)!
——–
Here's a tune Phil Taylor wrote after coming down to visit us –
And here's the latest from Dev, an evocative tune by Isato Nakagawa.
July 2012
Rob came up from Cornwall last week to pick up his Teign.
Rob sourced this stunning ziricote himself,
Here's a close up of the back.
Another nice feature is this Celtic dog inlay from Jack.
Kevin from Liverpool ordered this Tavy earlier in the year and sent us this photo when he received it earlier in the month.
Here's an interesting request – Rob cut down this chestnut tree in his garden a couple of years ago,
He planked it up and brought it along to the workshop to see if we could use some of the timber to build a Creedy for him.
Here's some of the wood – still too damp, but we cut it into a couple of sets
along with a few neck blanks and stored it until it was dry enough to use.
Here's the result –
The neck, back and sides were all made from his chestnut, if anyone out there has a similar request just get in touch and we can discuss it!
We've given you the odd taster of this Taw over the last couple of months, we'd like to show you completed instrument,
Jack used an Alphonse Mucha painting and Art Nouveau design as inspiration as you can see from the headstock,
The inlay is repeated on the beautiful figured bubinga back,
With more bubinga and ebony laminated into the maple neck,
Same again for the rosette.
We gave Jack the first opportunity to play it as soon as we strung it up – needless to say it sounds as good as it looks!
Here are two video links to end the July news: firstly a fine version of Maggie Cameron by Dev Patel,
And here's Paul Rogers at the Village Pump Festival in Wiltshire proving you don't need to mic up when you've a Brook and no-one's put fifty pence in the electricity meter!
Have a good Summer holiday!
June 2012
We've had a rainy June down here so far but it hasn't stopped these
customers picking up their guitars:
Bill nipped over from Brighton to collect a cherry Tavy to match the baritone Tavy he ordered last year.
Michael came up from Cornwall for this classy sycamore Tavy,
Michael wanted us to make the guitar using home grown wood as far as possible,
Here's the sycamore back with walnut, bindings, heel cap and centre strip
And bog oak for the fingerboard, bridge and head veneer, Andy turned position markers out of deer horn that Michael supplied.
Freddie and Colin came down to pick up the latest Lyn for Oasis in Ringwood.
Mark Waistell ordered a Taw from us back in 2010, it inspired him to start writing songs again,
A chance encounter led to producer Mark Tucker wanting to record his CD,
Mark has produced Show of Hands, Ralph McTell and Chris Wood amongst others!
'Latecomer' is the result of the collaboration, and very fine it is too! It's been getting great reviews and the album launch in Exeter was a sell out. Some superb musicians lined up to help – Phil Beer, Gerry Conway, Barney Morse-Brown and Spencer Cozens. For more information check out Mark Waistell
Amongst the repairs this month we've been working on these: this old Giannini, this rather nice Ibanez Stephan Grossman model and this 1930's Gibson in need of a fair bit of attention.
There was an hour long documentary about TV Smith, a regular of these pages, on BBC4 earlier this month and repeated throughout the week – 'We Who Wait tells the story of the punk band The Adverts and the continuing career of their former frontman TV Smith, one of the most talented, literate and passionate – yet curiously overlooked – songwriters to emerge from London's vibrant '77 new wave scene.'
Good to see some clips of TV with his Taw.
May 2012
Keith bought his Teign from Soundpad in Barnstaple, he popped down and we fitted a Fishman Infinity system for him.
.
Mike ordered this lovely Rio Tavy 015 to complete a trio of similar spec guitars in his collection.
Phil came down with his Torridge to look around and have a K&K system fitted.
Tony came over from Somerset with the intention of ordering a parlour guitar but couldn't resist the fan fretted Tavy that was reviewed last month.
We completed this cedar Little Silver
With figured walnut back and sides.
Dave Smith asked us to make up this flight case for his two Boveys,
A fine pair!
Now – a few more pictures of this rather special Taw that Jack's been working on
Here's the headstock after finishing and fretting
And a shot of the bridge being clamped and glued on, hopefully next month we'll be able to show you the finished guitar!
Amongst the visitors this month were these two woodpeckers on the bird feeders.
Lastly a shot of the orchard with the workshop in the distance now the trees are beginning to show signs of life,
Looks like there should be a good crop of apples this year!
April 2012
'Acoustic' reviewed our yew fan fretted Tavy in this month's issue, we were pleased to
see it received a full five stars in every category. To see the full review click here for page 1, page 2 and page3.
Chris Ayliffe added another Brook to his collection, our new OM model.
We managed to find a stunning matched set of koa for the top, back and sides,
An abalone border and rosette with a pyramid bridge sets off the top nicely!
Graham was next down this month for his Rio and Adirondack Taw, Graham made the drop top electric in the photo and we sprayed it for him recently,
It's always difficult to get a good picture of these dark woods due to the
reflection so I can only really give you an idea how beautiful this back is.
Ben bought this Taw from Celtic Chords the same day it arrived at the shop!
John came down so we could fit a Fishman Infinity to his Tamar.
.
T.V's just completed a six week European tour with the UK Subs,
In that time TV and his battle scarred Taw visited Holland, France, Germany, Poland, The Czech Republic, Austria, Slovakia, Slovenia, Italy and Switzerland.
Matt and Dave are displaying an array of Brooks used to record Robbie in a small church in Wiltshire.
The session went well, interspersed with the sound of thunder and a few other ambient additions! We'll let you know when you can hear the results.
Last month we showed you the dital harp we were working on,
Here's a video of Sarah Deere-Jones playing the restored instrument
Ground With Variations
We'll leave you with Mike Lydiat and Mike Wild playing
Carolan's Concerto
Oh – and an unashamed plug for Michael Hurley who I went to see in Bristol where he played one of his few UK dates of the last couple of years,
He told me he still uses his little Bovey!
March 2012
We'd like to start this month by introducing our new occasional magazine 'Babbling Brook; written, edited and designed by fellow Brook owners Martin Bell and Rob Jessep. The idea is that it will give us the opportunity to go into the stories behind our rather brief monthly news updates in more detail and also give our customers a chance to have a say themselves;
we welcome articles, ideas and letters for future issues.
You can download the first issue on our homepage or here.
Now for the other news – Martin came down to add this twelve-string Creedy to his growing collection of Brooks,
The back and sides were this striking set of local cherry,
We used these new Golden Age tuners to keep the size of the headstock and weight down,
We kept the bindings and purfling simple and added a bit of sparkle with the abalone ring in the rosette.
Martin and Les brought their two Little Silver tenor guitars down with them as I'd not had a chance to photograph the instruments properly when they picked them up so here they are,
Les' tenor is darkened flamed maple and cedar, and Martin's is flamed maple
and European spruce, here's a close up of Martin's maple laminate neck with a nice little additional decoration on the heel cap.
You may remember last year we showed some pictures of us cutting up Bubinga and Sucipira we'd bought from a furniture maker in Somerset, here are the first guitars we've made from it – a Tamar and a Taw.
Several repairs this month – we reshaped the neck of this thirty year old Manson classical,
Carried out a neck re-set on this early '90's Manson Magpie
And started a major repair on this 1820's harp lute
As you can see the previous repairs leave a little to be desired!
We'll finish up with a sneak preview of a rather special guitar we're working on
featuring Jack's stunning inlay work, keep an eye out here for the finished guitar.
February 2012
Braving the bad weather Dave came down for his Bovey tenor guitar,
We found some spectacular figured mahogany for the back and sides.
Another rather special guitar this month was this Tavy for Steve from North Devon,
The abalone and ebony rosette represents a clock face.
Here's a photo of the heel-cap inlay and the ebony bindings chosen to contrast the figured maple.
Now we'd like to introduce a new model – it seems a lot of people out there still want American style guitars so here's our tribute to the Martin OM,
We're following the American styling with a simple belly bridge, a squared off headstock shape and a 640mm scale length,
Freddie snapped it up for Oasis in Ringwood and it
was sold within a couple of days of it being in the shop!
Bruno came down with his Taw for his free first set-up and chose some woods for a new Tavy.
We had the pleasure of doing some repair work on the legendary Wizz Jones' Epiphone Texan, Wizz has been performing regularly since the late '50's and has been mentioned by everyone from Clapton and Keith Richards to John Renbourn and Ralph McTell as an early influence.
We re-finished the back of the neck
And the old Texan's back on the road (along with the old Croydon lad!)
Another repair this month was Thierry's Tasmanian blackwood Taw which had received rather a nasty break!
When the neck came off part of the rosette pulled off with the end of the fingerboard.
We got it all back together, playing as well as before!
We sent this reclaimed mahogany Clyst and a cherry Little Silver to 'Guitar Classics in Battersea,
And this Lyn up to Liz in Lincolnshire.
Gavin bought this 12 fret Torridge from Celtic Chords in Stonehaven and was kind enough to send us this photo.
Leon came down to order a Tavy
and took these photos –
This is one of the sets of walnut we cut up last year and have been looking forward to seeing it made into a guitar.
There's something rather special about choosing the wood for your guitar yourself and seeing your name on it!
January 2012
Chris Woods came down for this rosewood baritone Tavy. Chris is a superb player and is often seen performing at the guitar shows, he also has a regular column in the Acoustic magazine.
Stewart picked up his customised sunburst Lyn,
Here's a close up of the top showing the abalone border and rosette, and the pyramid bridge.
This is our second fan-fretted Tavy,
640mm / 660mm scale length, nice European spruce top,
And local yew back and sides. This one's just gone up for review in 'Acoustic'.
Two guitars on their way to Ivor Mairants – a rosewood sunburst Torridge and also a yew Torridge.
And two on their way to Guitar Classics – a Clyst in reclaimed mahogany and a Little Silver in cherry.
Chris Ayliffe popped in to see how his new all koa OM model was getting on.
Here are a couple of very nice pictures we received from Ewan D. Rodgers
Ewan's originally from Yorkshire, currently living and playing in Brighton. Check out his website here
Stuart picked up his lute guitar, we had to glue the bridge back on and repair the top.
Two more fine videos from Robbie this month Cranborne Chase played on his Tamar And A Sunday Morning in January using his Tavy