December News 2018
To start off the final month's news of 2018 we have this Lamorna which has just been sent off to Howard in Norfolk,

An Adirondack top, Martin style rosette, simple pearl diamond inlays on the fingerboard and a belly bridge decorated with a couple of additional pearl diamonds.

Madagascan rosewood back,

Along with a  fleur-de-lis inlay on the headstock and Waverly tuners with snakewood buttons.

Richard came down from Bristol for this Torridge,

With a Lutz spruce top,

A figured English walnut back and figured mahogany laminated neck

And a Celtic knot headstock inlay.

This cutaway Torridge is going out to Mauro in Italy in the New Year,

It has a yellow cedar top

And a figured English walnut back.

We've just delivered this rosewood and Sitka spruce Lamorna to Project Music in Exeter.

Amongst the repairs this month: We had to glue a few small splits in this fine Nicholas Scott classical, we also reshaped the neck and re-lacquered it to make it more comfortable for the owner.

We're repairing a puncture wound in this old Harmony Sovereign. Once a favourite of 1950's and 60's folk and blues musicians, the model was so popular there were even European copies made of them!

This Silvertone arch-top, probably also built in the Harmony factory, came in for a neck re-set. The owner has a collection of similar models, with a bit of luck we should have this one ready for a place in the January news.

For everyone who keeps up with the Brook news updates we send you our best wishes,

We'll be off for a few days for our winter break and see you again next year!
November News 2018
We'll start the news this month with George in Atlanta, George has, to our knowledge, become the first Brook collector over in the U.S. Here he is in Peachtree Corners with his collection, second on the left is his latest acquisition – a Taw made of yew from the Haldon Grange estate near Exeter.

Tony came over from the Isle of Wight to pick up his 12 fret Tamar 12 string:

015 spec with abalone purfling, rosette and fingerboard inlays,
A bound, slotted headstock with Golden Age vintage tuners,

A stunning English walnut back and sides, bound with maple,

Along with  a sound-port.

Many thanks to Anne Schelhaas-Wöll for these photos of TV and his Taw, he's on tour in Germany supporting Die Toten Hosen
All taken at the gig at the SO36 club, Berlin on 7th November.
Jake has recorded a couple of tracks with his Tavy fan-fret and put it up on Bandcamp, to listen – check it out here.

This bubinga Torridge went up to Ivor Mairants in London.

Chris visited the workshop with his twenty year old English walnut Tavy, we remember making this one for the original owner – we're pleased to say that the guitar's matured beautifully and sounding even better after all those years of playing!

A few interesting repairs again this month: Gareth Hedges brought over his 1970 Zemaitis to lower the action.

Stan brought over his latest instrument – a Les Paul / Telecaster crossover, capped in English walnut we supplied, Andy wired it up for him. Stan's raised a considerable amount of money by donating his guitars to various charity auctions.

Mark Foxhall, from Lyme Regis, came up with his unusual Jerzy Drozd custom bass. With a fret dress and careful customisation of the saddles we were able to get the sneakily low action Mark needs for his super fast double thumbing technique!

It was great to see Kev Aram's domino Torridge again, it's loosely based on a vintage Regal.

We made up a full set of bone and ebony miniature dominos and arranged the fingerboard markers to add up to the appropriate fret positions with the remainder incorporated in the rosette. Kev's next guitar is going to have a cowboy theme, we're looking forward to working on that!

This Norman Wood guitar has been an interesting renovation: it had been messed around with over the years and even been fitted with a Strat bridge, we patched it up, filled the splits and put a fresh bridge plate, bridge and tailpiece, some new struts, reset the neck and put it back together. It sounded remarkably good and the owner was delighted to get an old favourite up and running again.

I met Norman in the mid '70s, he was an eccentric character with some novel ideas about guitar making including an unusual layered back and stainless steel bar frets. This was his advertisement in a major guitar magazine from the same period!
Just one more Brook News before the New Year!
October News 2018
Here's a snapshot of the first frost of the Autumn over the orchard by our workshop.
These are the first four guitars that Andy took up to Project Music in Exeter,

From the top: a rosewood Torridge, a rosewood Lamorna, a rosewood Tamar and an English walnut Taw.

Ken came up from Cornwall to pick up his Teign,

European spruce top, diamond and dot position markers,

An English walnut back

And an inlay based on the logo from the Dartmoor Pony website, many thanks to Jenny How for permission to use the image.

This Martin came in with a nasty break in the sides,

Andy jigsawed it back together and used these strong magnets to hold a patch in place while the glue dries,

A little sanding and filling, then some colour to disguise the damage before building up with clear lacquer –

And a delighted customer picks up the result.

David took a trip up from Glasgow to Stonehaven to try some Brooks in Celtic Chords, he came away with this Taw.

Su picked up this rosewood Taw recently, the guitar's over twenty years old now and still sounding great!

TV got a good review for his latest album in Vive Le Rock magazine.

Amongst the repairs this month were a re-spray on this Fender Jaguar

And repairing a neck break on this banjo uke for Liz from Cornwall.

Finally this month – another three guitars we're about to take up to Project Music,

From the top: A walnut Torridge, a rosewood Torridge and a rosewood Taw.
Keep warm!
September News 2018
These are the latest five guitars we've just sent up to Coda Music: A Teign, Tavy, Lyn, Weaver and a Creedy.

From bottom to top: Indian Rosewood, English Walnut, Figured Mahogany, Ovangkol (top left) and Indian Rosewood again (top right).

Thanks to Pat Muff for these photos of Chris, taken on Dartmoor with his two Brooks.  Chris bought the red gum Tamar we had for sale to accompany the Teign he got from us a couple of years ago.

We completed the renovation of this 1920's guitar, the maker, Raffaele Calace, was a celebrated Italian lutenist and luthier and died in 1934.

The owner wanted the rather battered guitar to be made playable again so he could use it but wished to retain its character as his father had acquired it in Alexandria during the war. We kept and replaced the boot nails used to repair it after we'd taken the back off to re-glue many of the struts and repair the splits all around the instrument.

Mike came down for the Torridge we mentioned in the July news,

Bubinga back and sides with an Engelmann top.

Andrew's sent this walnut Lyn down for our shop, he's selling it to fund a nylon strung Cary. It's only two years old and in very good condition, if anyone's interested in saving some money and not having to wait for a new Brook this one's for sale at £1800.

Sometimes people just don't treat a handmade instrument with the respect it deserves! Unlike the standard  Gibson headstock it's really not that easy to decapitate one of our guitars but this seventeen year old Tavy had been knocked over and had split around the volute.

To be fair – it didn't look as bad as this when it came in but to get a better gluing surface this time we felt we'd make a better job of it by fully breaking the headstock. Here's the completed repair.

We've been working on lots of other repairs, more of which next month!
August News 2018
Here are the first four guitars that we've just sent up to Coda Music in Stevenage,

From the front: A rosewood and European spruce Lamorna – our OM model, a beautifully figured mahogany Clyst, a bubinga and sitka Torridge and a rosewood and European spruce Taw.

Gary came down to pick up his new Taw,

It's rosewood and Engelmann spruce, slightly customised with diamond and dot inlays, deeper body and wider fingerboard and string spacing.

Brian bit the bullet and bought the spectacular fan-fretted Tamar we made last year! Brian wrote –
"Thanks for all of the effort and fantastic craftsmanship that Andy and yourself put into creating this guitar, it's found a home with someone who appreciates it more than words can say".

A couple of photos from Brook owners in the States this month: Firstly from David who let us know that his Taw was featured in his local Greensboro paper along with David playing at Porchfest accompanied by his friend and top musician Scott Manring.

Secondly we have Geoff from South Carolina who picked up this Kew walnut Torridge recently. We love to receive photos with a little local colour and Geoff sent us these shots from Greenville which is the only place in the US to have a natural waterfall in its centre!

Bob, on the left, has a recording studio in London and came down for set up on 2002 Tamar. On the right – Steve Goodchild picked up this second-hand 2016 Torridge recently and took a detour down to see us while he was working in Bristol.

Ken dropped in to see how his English walnut Teign was getting on and to finalise his headstock inlay, the guitar is up in the spray shop now so, with a bit of luck, we'll be able to show you the finished guitar next month!

Andy's just done a fine sympathetic restoration job on this rare Selmer Eddie Freeman tenor guitar, in the foreground is the superb history of Selmer guitars book by François Charle with all the information about this model.

As we were cutting up some of this Brazilian mahogany, we thought it might be interesting to show you an early stage in the building process – Marking out from the neck template, rough sawing to shape, then we leave them for a while before they're thoroughly stable and ready to select for future batches of Brook necks.

Film editor John Mister popped in with Gareth Hedges for a set up on his Martin which involved a fret dress, lowering the bridge height and dropping the saddle.

We've been working on some interesting restorations – more details of those next month, but this Sobell bouzouki is worth a mention, it was one of the late John Renbourn's which came up for auction recently. We're converting it to left-handed for the owner but we'll keep the original bridge, saddle and nut in case it needs to be converted back in the future.

Jack inlaid this spaniel in John Middleton's Lowden a few years ago, it was nice to see it again when Andy fitted a Fishman Infinity pickup.

Steve Tilston sent us a video of 'Let Your Banjo Ring' with his new Calder – see it our YouTube channel.

I've been making the most of all the music around during festival season: I saw Steve and Jez Lowe's set at the Sidmouth Folk Festival, then went off to see Wizz Jones.
Pete Berryman was amongst the many who played at the Hellys International Guitar Festival, Pete played a great set on his Tavy ending up with a crowd pleasing fingerstyle version of Albatross that you can watch on the festival site. The festival encompasses a multitude of guitar styles with top players from around the world and is organized by lutenist Ben Salfield, there were several luthiers there so it was great to have a good chat with them along with other old friends! I caught up with Wizz and Pete again at the Wadebridge Festival last weekend.

Finally – a shot of the next five guitars we're just finishing for Coda, they'll be ready for delivery early in September.
July News 2018
These three guitars, a Tamar, Lyn and a Clyst, are off to Ivor Mairants

And this bubinga Torridge is for our shop.

Steve Tilston's new Calder is being seen out and about regularly with Steve's busy touring schedule, here he is at Radio Leeds

And also at the Bristol Harbour Festival a few weeks ago. We've had two orders for his Calder model already, one from Keith Warmington who plays with Steve occasionally and one from Tony Kerry to add to his substantial collection of Brooks!

Most of you will know Robbie from our YouTube channel, over the years he's posted many superb acoustic guitar and bass videos of his arrangements and his own compositions.
Last year he found himself in the unfortunate position where he had to sell his collection of instruments. He's crowd-funding to record his second album and put something towards the deposit on a guitar. We'll be helping out but if any of you good people would like to contribute you can find out more about it here
Thanks to Simon Maidment for this photo. Simon runs a bespoke design company Simon Maidment Design And Research in Kew.
With his design background it's very flattering that he chose a Taw and a Creedy from us!
John bought in this 1930s Raffael Calace guitar. We love to see guitars like this with a bit of history:
John's father picked it up in Alexandria during the war and when it started falling apart mended it with nails from his boots! Our task is to keep these interesting features and get it back into a playable state.
Drew and his wife were over from the States on holiday and scheduled in a visit to the workshop. We made a Taw for him last year, the inset photo shows Jack's inlay to celebrate Drew's mother's love of gardening and the shamrock below as a reminder of his Irish heritage.

It was good to see these two Grimshaws together, the one on the left is a 1930s Revelation from our collection and on the right, a later Plectra – with one of the strangest cutaways we've ever seen!

The Plectra came in because the celluloid pick-guard had bent almost double, unfortunately we forgot to photograph it before we separated the laminates and binding but we managed to flatten everything out and then glued it all back together.

A gentleman rang up the other day to ask about two Boveys he's acquired, we looked up the serial numbers and the earliest one we made way back in 1997 for Martin Barre!

Mark was on holiday in South Devon with his family so called in with his Tamar and Bovey for a string change and a set-up.

Ollie here came over one day to complete his work experience week, he's a fine player and enjoyed the chance to try the finished guitars!

Michelle and Rob dropped in and gave us a few tunes before heading down for their gig at the Bodmin Folk Club. Michelle recorded one of the numbers on her phone, I'll be posting that on our YouTube channel shortly.

Amongst the other repairs we've been working on recently: this Takamine was the worst for wear, Andy did a fine job to get it back together and get it looking in a reasonable condition again.

This limited edition Martin acoustic bass had the common problem of the celluloid binding shrinking and coming away from the guitar at the waist, we re-glued and refinished the lacquer in the offending areas and it's pristine again.

Ah…. and this green Washburn came it for a fret dress and a set-up. Back in the early 1900s Washburn made some of the prettiest guitars around – this one – not so sure!

It was nice to see this fine guitar Chris Ayliffe made.

The story was that it was custom made for someone who annoyed him so much that when it was completed to the customer's satisfaction Chris refused to let him have it!

Next month we'll show you the first batch of guitars going off to Coda Music.
June News 2018
Marcus and Nitin dropped in to the workshop earlier in the month and Marcus played us a short set of his songs accompanied by Nitin on tabla. It was a real pleasure for us to hear these two great players. Nitin's from the third generation of master tabla players. His grandfather, Shenhai Samrat Pandit Shankarraoji Gaikwad was one of the greats of the 20th century.
 George came down from Milton Keynes to pick up his third Brook – A Tamar to complement his Torridge and Tenor Uke.
He chose English walnut back and sides
And an Alpine spruce top. George favoured the slotted headstock rather than the solid one we usually use on the 14 fretters.
Adrian couldn't make it down to pick up his Taw but sent us this photo from his workshop.
He makes the very fine, award winning, guitar pedals at Thorpy FX. Check them out here.
The back's Macassar ebony. Adrian got in touch –
"The guitar is truly stunning, I'm mainly an electric player but this acoustic is addictive, both beautiful and so easy to play, I can't seem to put it down…."
Here's the European spruce top.
Chris brought his mandolin in for us to check out, we made it back in 2001. The small sapling you see in the inset photo is now the large lime tree you see behind Chris in the main photo!
John came down from Bedfordshire to pick up his new ovangkol Lyn, he came down a few months earlier when I carved the neck to check dimensions, he wanted a similar feel to his classical guitar.
Here's the guitar from the front, John preferred a solid headstock on his Lyn rather than the traditional slotted one.
Quite a a few Lyns seem to have left the workshop over the last couple of months, this cedar and mahogany one is about to go off to Forsyths in Manchester
There were a couple of shots of Steve's Madagascan rosewood Lyn in last month's news, he sent these photos with the message –
" Thank you for a beautiful looking and sounding guitar, it's perfect."
Rob brought his banjo in to show us now it has its full complement of hooks. He's been getting plenty of interest in the instrument wherever he plays. We also have Michelle's banjo in to dress the frets. They'll be playing as a duo again in a couple of weeks time when Michelle comes down from Manchester.
Andy made a slightly wider bone nut for Mike's David Oddy OM.
Here's a collection of some of the repairs we've been working on recently: a re-fret on a vintage Tele, fret dresses on a Harmony, Gibson Dove, Lowden and Takamine. Andy also repaired a couple of classical guitars with a number of splits and dinks!
Lastly a holiday shot of Mike under canvas, enjoying the sunshine, scenery and the Framus Broadway we rebuilt for him a few months ago!
Enjoy the sunshine!
May News 2018
We've just strung up Steve Tilston's Calder, we're letting it settle for a week before sending it off to him.

The top's finest quality European spruce with an amber stain, an abalone border and rosette,

Rosewood back and sides,

Here's the obligatory inside shot through the sound-port,

And here's a shot of our take on Steve's distinctive 12/14 fret body join.

Here's a Lyn for Steve in Manchester,

It's been customised very much in a Martin style with the triple rosette, tinted Engelmann top, courser herringbone purfling with celluloid binding and pyramid bridge,

There's a marquetry centre strip on a Madagascan rosewood back that Steve supplied.

Lastly an abalone torch inlay on a Madagascan rosewood head veneer.
Mike came across from the Isle of Wight to pick up his Taw,

640 mm scale with diamond and dot inlays,

Wider fingerboard, a deeper body

And Jack's snowdrop inlay.

This customised Torridge is going off to Shoreline in Colorado.

Here's a cedar Tamar and spruce Lyn for Intersound,

Walnut for the Tamar, cherry for the Lyn.

Keith got in touch for some information on this Tamar that had turned up at their shop – Empire Guitars, Rhode Island! We made for Ivor Mairants back in 2002.

I was invited by Pete Berryman to the opening fundraiser for the Hellys Guitar Festival. The festival is organised by international lutenist Ben Salfield and taking place in August. There's an excellent and varied line-up ranging from Clive Carroll and Pete to two of my favourite characters, poet Bob Devereux and artist, musician and writer Jonathan Coudrille.
By the way – Pete has just updated his website, you can visit it here

Check out Jack Hayter's live performance of one of my favourite tracks from 'Abbey Wood' – 'I Sent My Love To Bendigo',  many thanks to the 'For Folk's Sake' team for this video.


We've just cut up this board of highly figured bubinga, there's a lot of work involved in sourcing the right wood, cutting and storing it – in this case just for three distinctive sets.

We've also been busy with plenty of repairs and re-frets this month but I'm afraid we haven't room to show them, maybe we'll get a chance to round them all up in next month's news!
April News 2018
As a follow up to the recent article in our latest Babbling Brook magazine we'd like to mention Dev's new guitar book 'Fingerstyle Etudes'. If you follow our YouTube channel you'll be aware of Dev from his beautiful Celtic compositions and arrangements on his Torridge.
Here's the cover and reviews from guitar luminaries Clive Carroll and Stuart Ryan:
"The pieces in this book explore many wonderful sonorities that are unique to the acoustic guitar. The composer Devkinanden Patel, is a player with very fine technique and an expert knowledge of the fretboard. His collection will help to advance student's technical skill and musicianship, and the music also works well in concert!" Clive Carroll
"My friend Dev is a great player, a wonderful composer and he really makes the guitar sing!" Stuart Ryan
You can order the book through Dev's website:
https://www.devkinandanpatel.com/shop/fingerstyle-etudes
Marcus Corbett, also featured in the same Babbling Brook article, is about to embark on a short UK tour with Nitin Gaikwad:

They're are down our way with Faeland  on 22 May at 19:30–22:45 at Kingskerswell Church – a really lovely local venue which is attracting a some major artists.
Jeff and Lucy came up from Totnes to pick up Jeff's new cutaway Torridge.

He wanted to use native woods as far as possible and chose yew for the back and sides, a European spruce top and a bog oak fingerboard.

Jack  was asked to design the inlay of their cat Garth on the headstock and sent us this photo of the subject!

Here's the result – The verdict was that it looked more like Garth than Garth!

Another stunning guitar completed this month, an OM  for John in Merseyside, John sourced the rosewood back. Other features include a Lutz spruce top, koa binding, and an abalone torch inlay, abalone snowflake inlay, rosette and top border.
Pete Berryman dropped in returning to Cornwall after a few gigs in Holland, he really enjoyed playing the custom fan-fret Tamar we have for sale. He was also interested in finding out more about the thinline Taw with the detachable neck we made last year for TV Smith as he's gigging abroad regularly. Pete's new album is almost ready, we'll look forward to that and let you know about it when it's released.

Talking of TV – Tim played at the Viva Le Rock awards ceremony and is featured in the current collectors issue!

Will Riding came down from Chester with his luthier friend Andy to see where his Torridge was made. He played us several of his excellent songs, check them out on Soundcloud
Another hearty recommendation: Jack Hayter's new album 'Abbey Wood' has just been released, you can read about it and stream it on Bandcamp. Jack's Taw is used on most tracks. Favourite track of the moment – 'I Sent My Love To Bendigo'.
Check it out here – Jack Hayter – Abbey Wood
   This Brook tenor uke is winging its way to Australia.
Andy, Anita and I were delighted to see Steve Tilston and Jez Lowe playing in Topsham towards the end of April, Steve popped in the following day to see how his guitar was progressing and try out some pickup options. Not long now before we polish the Calder and start putting it together. With a bit of luck next month we'll be able to show you it strung up and ready to go!
Always good to receive photos of Brook owners. This photo was sent in to us by Keith, it's Phil and Keith with their guitars, not sure of the significance of the owl on Phil's shoulder! Maybe an alternative to a pirate's parrot?
More next month!
March News 2018
We were unable to make it in to the workshop several days this month because of the snow down here in the South West,

These photos were taken on the first day back, the snow had started to clear but it still looked picturesque out there!

A couple of weeks before, Wendy made it down to pick up her heavily customised, butterfly inlaid, Lyn!
Phill picked up his second Brook, this rosewood Tamar to go with his  his Taw, he emailed " The Tamar is bloody fantastic, thanks once again for making such an amazing guitar, I've not stopped playing it!".

Geoff came down from Gloucestershire with Denver from Intersound and went away with this Little Silver we'd made for stock.

Beautiful figured mahogany with an Engelmann top.

Denver picked up this Taw for an Intersound customer –

Engelmann top, oriental walnut back and sides.
And also went away with this Weaver we'd also built for stock –
English cherry back and sides, European spruce top.

Mike was really happy with the re-build of his old Broadway arch-top we showed you last month in pieces.

We glued the braces back on, got it back together, gave it a coat of lacquer and it's now looking much healthier and playing comfortably again!
We were entertained again the other afternoon when Rob and Michelle dropped in, Michelle was down from Manchester for a couple of gigs they'd booked in the area.
The fan fret Tamar we're selling on behalf of a customer has now been dropped in price considerably to £3390 as we've had it on sale for a while now. Anyone interested get in touch.

Some years ago Chris part-exed his Tavy for a Gibson 175 and regretted it soon afterwards. We're pleased to say he's back in the fold again, he picked up this Taw from Intersound and is delighted with it. Here are Chris, Albert and Maisie enjoying a brief spell of March sunshine along with the new guitar!

Here's part of the latest delivery of rosewood that turned up this week.

Now, an update on Steve Tilston's Calder: Here's the roughed out neck, dovetailed and ready to fit the truss-rod and fingerboard

And here's everything in place. I'll soon be carving the neck and getting it ready for its first coats of lacquer
so – another update next month!
February News 2018
John Forrester's new album was released on the 23rd of February. Produced by Fairground Attraction's Roy Dodds it features a fine, heartfelt set of new songs from John,  accompanied by the impressive musicianship of singer and cellist Kath Williams, pianist Jenny Carr, flautist Linze Maesterosa, accordionist George Whitfield and violinists Paul Godfrey and Saskia Tomkins.
John's used his new Teign on the recording, you can sample the tracks here

This cherry Tavy is off to Project Music in Exeter this week.

We like to see photos of Brook owners and their guitars in a local setting, Rob, I'm pleased to say, was happy to oblige! Here he is with his cherry Clyst and his spaniel Mack in front of the knapped flint wall of Old Catton Church, near Norwich.

Rob got in touch with us towards the end of last month showing interest in a parlour sized guitar, either the Creedy in our Shop or the Clyst at Celtic Chords. Rob wrote " The guitar has formed a little triangle of the island, Devon to Aberdeenshire to Norfolk, please mention what a top man Pete at Celtic Chords is" – Consider it done!

Martin picked up his maple Okement, here he is in the orchard with the annual snowdrops in the background.

Rob Murch came in for his nylon strung banjo, we hope to get some YouTube clips of him playing his unique English classic banjo style on it very soon.

Michael sent us this photo of the attractive new hard-case for his Bovey from Kingham Cases.
On to the repair section:
We've a couple of arch-tops in: the first – a Zenith is in reasonably good condition for its age and shouldn't need a massive amount of work to get it playing well again.

However this Framus Broadway is pretty much going to require a total rebuild!
Check out this dustball – leaves, hair, fluff, dead flies and who knows what? If guitar detritus could tell a story……

Keith Christmas came in with the Fender Palomino we worked on recently, he's now using it for slide and has been writing a lot of his new material on it. He brought his Eggle over for Andy to repair the split in the side caused by somewhat overzealous activity in concert!  Note: Keith's trainers are colour coordinated with his Hiscox case!

We had a second Eggle in for some repair work this month from Project Music.

We replaced the bridge on North Devon bluesman Jim Crawford's J45.

Here at the workshop we're really busy with a substantial number of orders in the book, we're in-between batches and didn't have too many new guitars to show you this month so we'll give you a little snap shot of what we're up to here: (clockwise from top left) Si preparing necks for carving, Andy fitting a pickup, Yasmin making linings and Jack making the latest batch of bodies.

We've two different torch inlays on the headstocks of the next guitars to be sprayed, here's one of them in the process of being inlaid.

Here's the latest photo of Steve Tilston's new Calder in its early stages.

More next month!
January News 2018
Hope you like the New Year's larger format, we should be able to show you the progress each month in a little more detail!
Wendy, from Gloucestershire, ordered this pretty Lyn
With a curly redwood top, abalone rosette,
Jack's butterfly inlay on the headstock
Some stylised butterfly position markers on the ebony fingerboard
And reclaimed mahogany for the back and sides.
Steve Tilston got in touch after buying a Tamar of ours, he liked it so much he's asked us to build our take on his signature 12/14 fret Martin Cole guitar.
Here's the plan – it's a smaller version of our Taw with a 12 and 14 fret body joint to give a little more access without need for a cutaway.
We extended our range of Westcountry river names to encompass Steve's local river in West Yorkshire! Here's the new Calder mould, we'll be starting the guitar shortly and keep you updated as we go.
Martin didn't have far to come from Woodbury to order this Okement back in June
J200 size, this is the largest guitar in our range.
Maple back, sides and neck

And 'Flo' inlay on the 12th fret.
Jon came down from Dorset for a new nut and some fettling on his mandola.
Jon's in the critically acclaimed duo Ninebarrow, nominees for the 2017 Horizon Folk Awards.
We've strung up Rob Murch's banjo now.
With the neck built out of maple from reclaimed from his village hall dance-floor, we replicated the shape of his old Weaver neck.The 12″ pot is an 1880s Temlett made in England,
Jack inlaid Rob's initials based on his signature. Next month we hope to get photos of Rob, Wendy and Martin each picking up their unique instruments.
Pat from Las Vegas sent us this photo reminder that it's his twin Ian Anderson guitars' tenth birthday, we arranged with April, his wife, to get them over in time for Christmas day 2007 much to Pat's surprise! In the photo on the right he's strapped on the Tamar we made for him a couple of years ago, with a bit of luck we'll be meeting up with April and Pat this year if their trip over the pond comes to fruition!
Michael found this Bovey in Guitar Classics in Battersea, he sent us this photo of a performance in chapel at the House of St Barnabas, a rather exclusive club and venue in Soho!
Mark Foxhall, a fine bass player from East Devon dropped in his six string Peavey bass for conversion to a fretless, you can see he's happy with the result!
Tidy bench, tidy mind
…..oh dear!
News 2017
George Staines, an actor and musician, came down from  London on the train to pick up his new Tavy.

He wrote " The Tavy had its first professional outing on Friday, a regular paid session I do with some very fine musicians. Everyone was, to use a rather overworked phrase, blown away. It is interesting; it has so much forward projection of the sound that when playing it I'm unaware of just how much! They all loved the tone and clarity and superb separation of the notes.
Here's the walnut back.

This Lyn went across to Athens, Georgia to the second George featured this month!

For a change we didn't need a CITES licence as to export this as it was all in non-tropical woods – English cherry back and sides with a Swiss spruce top.

The Lyn's taken pride of place in George's extensive guitar collection.

This Taw went to Project music in Exeter

And this cedar Torridge will be heading off to a customer in London in the New Year,

Here's a shot of the reclaimed mahogany back and sides.
A montage of the latest stages of Rob Murch's banjo neck – carving the neck, the inlay of his initials and first coats of lacquer, we should get the instrument together early in the New Year, you may remember – this was constructed from maple reclaimed from the dance-floor of his village hall!
Amongst the odds and ends in this month we had this early Manson in, the top had been badly damaged by a friend's dog, we were really pleased with the almost invisible repair (so was the owner, his friend – we can't be sure about the dog!)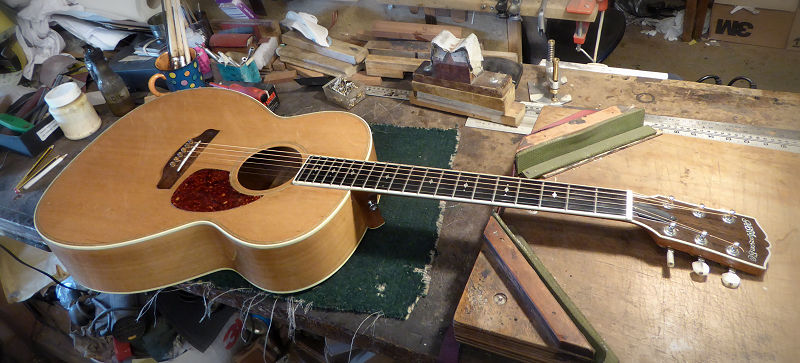 We had to change a lefty Eccleshall to a right-hander, fill and re-route the saddle slot, make up a new bone nut and saddle and give it a thorough set-up.

Finally – Season's Greetings to all our customers and friends out there.
We'll be back next year in a slightly different format, we'll be making the news photos a little larger with better definition to show you what we get up to each month.
November News 2017
The sun rising over the orchard early one November morning.
An unusually shy Richard, from Market Harborough, commissioned this Cary classical guitar from us to add to his collection of Brooks. He wrote to us after his visit "Back home safe and then spent a further two hours playing my new guitar which is just superb, thank you both so much. A tune has emerged which I'll record for you. It's a stunning instrument".
Here's the Alpine spruce top with a smoky pearl rosette

And the oriental walnut back.

John holds the record for the man with the largest collection of our guitars, he recently bought this Weaver – his 15th Brook! He's only ordered one directly from us, the rest he's acquired from various shops and auction sites around the country!

Pete, from Hampshire, has an 015 Teign we built for him ten years ago, here he's picking up his new 015 Torridge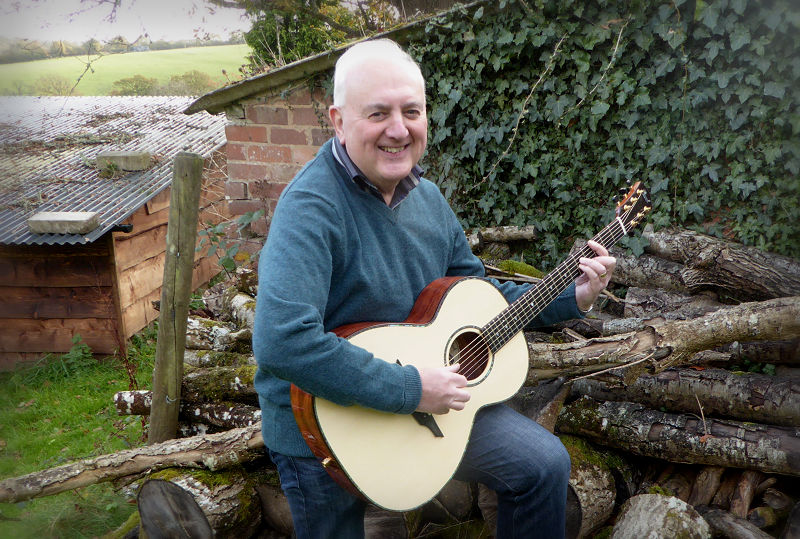 With a top quality Engelmann top, abalone rosette and purfling

And beautiful figured bubinga back.

This Lyn with a cedar top and drop cutaway went out to Shoreline in the States,

It has a rosewood bevel, it's not a feature we're particularly keen on but seems to be increasingly popular.

On another guitar going out to the States, Jack's inlaid this Taw headstock with a flower to commemorate the customer's mother's love of gardening, and a shamrock to celebrate the family's Irish heritage.

It was good to see this striking Teign with the Celtic inlay again, in for a quick set up.

This photo was taken at the Manson Guitar Show on Exeter – four luthier friends – James Millman who took our guitar course, Andy Manson who taught us, along with me and top classical maker Kevin Aram.

Nature corner:
Graham brought in his catch of Signal Crayfish from the pond here to show us. We were surprised how large they were. They're an invasive species that unfortunately wipe out the majority of the smaller local crayfish and decimate a lot of the smaller wildlife – as well as eating their own species!
Back to slightly more pleasant subjects next month for the final news of the year!
October News 2017
We're very pleased to announce that our latest Babbling Brook magazine is now available, it's a bumper issue this year with in-depth articles on Ant Phillips, Dev Patel, Marcus Corbett and Tony Hazzard, along with other Brook related features to occupy you for a while during these windy, winter months.
We've also articles on recording techniques from Robbie and Phil, a TV update and Pete Walton telling us why his Brook has probably been heard live more times than any other guitar we've made!
Many thanks to Martin for all his hard work and to all the contributors!
Download your copy here or from our homepage.

Richard came down from Manchester and intercepted this OM we'd made for the Shop,
It's the first time we've used the pre-aged torrefied spruce. It had a lovely open sound and plenty of bass from the moment we strung it up,

The colour hits the spot for me!

Here's the full length shot

And the headstock.

This one's for Phil in Wiltshire: a slimline Taw

With an Engelmann top

And English cherry back and sides with an oriental rosewood centre wedge.

Chris came down from Bristol earlier in the month to pick up the yew Tamar we featured in the August news.

Out with the old, in with the new: Robb Johnson recently found himself a second-hand Teign that he's delighted with so he's looking to sell the custom Tamar we made for him back in 2005. If you'd like further details go to our Shop and you'll find more information there.

Andy's moving along Rob Murch's banjo neck made from maple from his local village hall dance-floor.

Now on to our regular repair section: We've had in plenty of Gibsons this month for set-ups, fretwork and lowering the bridges.

Another one here with a nice Gibson 160E inspired '60s Hagstrom – also brought in so we could shave the bridge.

This is the second Brook cake on these pages, this one was for Sam's 40th and based on the left handed Taw we made for him in July.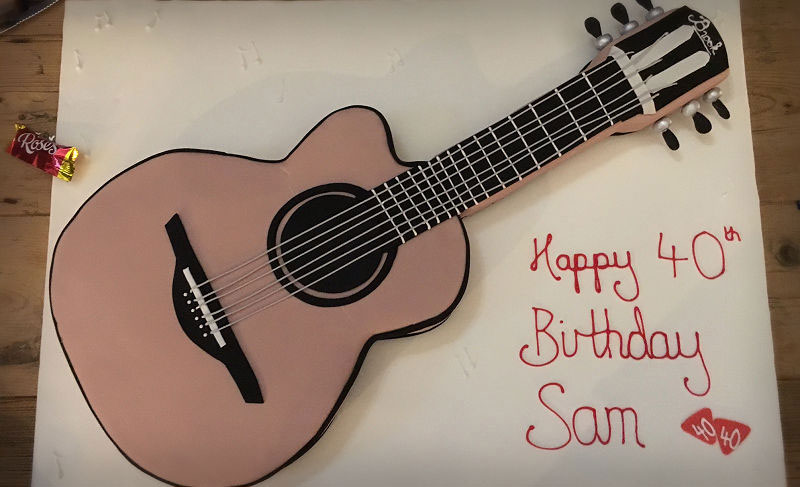 Finally this month –
This little Russian seven string guitar with an adjustable neck was brought over in a sorry state, it once belonged to the customer's father, we were asked to glue the bridge back on and get it up and running. Coincidentally my very first guitar as a youngster was a similar six string from the same factory, given to me by my grandfather. I recently picked up another for a few pounds at a car boot sale and it actually sounds surprisingly good!
We hope that Ophelia didn't wreak to much havoc where you are.
See you next month after the clocks go back and we start to get used to those darker evenings again.
September News 2017
Peter came over from Germany with his wife to pick up his 015 custom Teign,

Jack inlaid this hawk on the headstock from a design he'd sent over.

Here's a close up of the top
And here are two photos of the Teign's first public outing with Peter and his son Nicholas playing at a wedding ceremony in Schwaikheim a few weeks ago!

We sent this Torridge off to Kevin in Derby,

The back and sides are local English walnut, Kevin emailed when it arrived to say "I can't stop looking at it and it sounds fantastic".

This OM is awaiting delivery to Gordon in Wiltshire,

The top's Adirondack spruce with an abalone rosette, diamonds and dot inlays in the fingerboard.

We've just started work on a neck for the superb classic banjo player Rob Murch. Rob had a 12″ banjo pot from the late 1800s and maple from the dancefloor of his local village hall! More to come as we progress it.

I was down at the St Ives Festival earlier in the month when I came across actor and musician Bernard Faricy playing a Taw in the Salthouse Gallery. It rather took him by surprise when I went up to him and said that we'd made that guitar, it's accompanied him now for fifteen years!

Here's a picture of Scarlett Shocks taken recently at Party In The Park with her new Torridge, thanks to Margaret McGlone for the photo.

We had two visitors this month who'd bought their Brooks independently but took us up on the offer to have a look around the workshop and a free set up on their guitars, first of all Keith with his bubinga Torridge

And Stuart with his Tamar who was house-sitting in the area.

It was good to see this little Holly again, it was one I'd made myself with a removable neck for packing away in a travel bag. I swapped it for an old Rickenbacher lap steel years ago!

We renovated this Giannini: a refret, a new bridge, saddle and nut and it's playing well again.
We're in an old barn conversion here so we're used to the odd scrabbling noises from the bats and other small creatures, this squirrel's our latest, noisiest visitor.

The workshop is tricky to find at the best of times but there were some confusing directions for customers trying to find us earlier this month while the council were working on the roads in the area,
It seems all roads lead to Brook guitars!
August News 2017
Jack Hayter, former member of Hefner and Spongefinger, popped in to the workshop to say hello, he bought along the Taw we made for him many years ago.
Jack has this photo of himself performing with his guitar as his Facebook profile picture. We're looking forward to his forthcoming CD, a follow up to the excellent 'Sisters of St Anthony' release from a couple of years ago.
Andy and I took a trip up to North Devon the other afternoon to pick up some reclaimed wood we'd bought. Some old mahogany bar counters
And some Afrormosia boards.
Marcus, who we made the last Abbey for, sent us this photo – taken while he was working in this attractive location in Germany.
We made this black OM for Richard in South Wales, we sent it up to him and he wrote to us " The guitar has arrived safe and sound. I love it. It's exactly what I was hoping for. Now all I need is one in cedar and rosewood, and another with an Adirondack spruce top and….."
This Tamar is awaiting collection,
here's the back – local yew
Complemented with a yew head veneer, ebony tuner buttons and a snowflake inlay.
These two Brooks, a rosewood Lyn and a cherry Torridge, are going to Intersound in Dursley this week.
Rhyd popped in on his way to Cornwall with his family and his cherry Tavy. Here he is with Jasper, Harry and assorted instruments from our collection for a family shot!
Robbie sent us this photo from his performance at the Priming The Pump Festival last month.
Another Les Paul headstock repair, the second break in this case.
Now a couple of interesting ones: Beth from Portishead brought in this Chinese Ruan which had lost a couple of its bone frets, along with the early '70's Musicmaster bass which has a broken scratch-plate.
Another rather rare one here – a Burns Split-Sonic from the early '60's, interesting 'Wild Dog' option on the selector switch! In for some fettling.
Last up this month – one of Chris Ayliffe's collection, this old Arthur Froane twelve string, made in Germany for Barnes & Mullins, was one Chris used himself in his twenties. With some bridge restoration, fretwork and restringing it's playing well again and back with Tim, the Froane's grateful new owner!
If you've not taken it already – enjoy your summer break!
July News 2017
Sam, a psychologist, sent us this photo taken in front of his London office. We featured his beautiful spalted sycamore Taw in last month's news. He said " The guitar arrived safe and sound on Friday. It's fabulous! Really chuffed with how it's turned out. Thanks again for being such great craftsmen and an absolutely pleasure to deal with". Thanks Sam!

Steve from Intersound popped down for this Lyn for one of his customers. He brought down this pretty Victorian parlour guitar, unfortunately a little beyond practical repair, to donate to our collection of curiosities, all contributions welcome!

Rod came down with Steve earlier in the year to choose this figured mahogany for the back of his Lyn

And these new Schaller Grand Tune tuners.

I met Simon last year when he stayed at my favourite haunt – the Highwayman Inn at Sourton. We ended up playing some music together and he was particularly struck by my little Weaver. He came out to the workshop and ordered a Clyst. We met up again at the Highwayman when he came to pick up his guitar. Simon got in touch the other day " I'm loving the guitar, Cathy says whenever it's in my hand there's a big grin on my face. Says it all really, thank you guys" Thanks to Cathy for the photos from inside Cobweb Cottage.

There's a new album out from old friends of ours Wizz Jones and Pete Berryman, accompanied by Simeon Jones.

A great collection of Wizz and Pete's favourites, Pete's playing the Tavy we made for him nearly twenty years ago, Wizz is of course playing his Epiphone Texan! I'm looking forward to seeing them playing live down this way again in August.

Two guitars went off to Project music in Exeter: this black walnut Torridge

And this bubinga Taw

We thought this red crows-foot purfling would complement the striking bubinga, this'll be another option in the future should it take anyone's fancy.

Dave nipped down from Berkshire and snapped up this mahogany OM we'd made for our shop and only just strung up.
We had Ian Anderson's guitar in for some TLC. It's the original guitar we made for him while we were with Andy Manson over twenty years ago. Since then we've made him another similar sized one, also a Creedy and our latest model – the Abbey

Ian's using the Abbey as his main stage guitar now.

Ben Maggs was seen performing with his Cherry Tavy last weekend at the Priming The Pump festival. Thanks to Dave Pegg for the photo.

Andy's daughter Yasmin is a new addition to our workforce, she's coming in part-time to help out with the finishing in the spray-shop.

Jack made up a plug for Phil Taylor's Lyn to give him the option of blocking it if he needs to, it matches the sides perfectly.

Amongst the repairs this month we built up a very low bridge on this Gibson Dove for Soundpad in Barnstaple.
June News 2017
Tony popped down from London for a couple of days to pick up his 12th Brook, this lovely little tenor uke,

434 mm scale length,

With koa top, back and sides.

This bubinga 015 Lyn went out to Pascal in Switzerland, we inlaid the fingerboard with small Celtic knots.

It seems Pascal was happy with the result –
"The guitar has arrived, my God it is beautiful, I love it. Thank you for this wonderful work"!
This left-handed Taw is about to go off to Sam in North London,
The spalted sycamore on the back and sides of this are from a tree that came down in a paddock a few yards from Andy's house in Sandford!
The repair side of our business has been dominated by two brands this month – two Gibsons here,
Plus this nice old Gibson A style mandolin.
Secondly we've recently worked on this trio of Levins,
Along with a repair on the ribs on this vintage Martin.
Nature Watch: Amongst the other wildlife we regularly see in the orchard we spotted this jay sunning itself!
This month we lost another good friend of ours, David Oddy. He was a fine maker of not only guitars but many other types of instruments, David developed his signature mando-cello popularized by Phil Beer and Steve Knightly from Show of Hands. Nick, his son, will continue to make the Oddy instruments.
David was a regular visitor to our workshop and we'll miss him.
May News 2017
This Abbey is going out to Switzerland,

The  customer wanted a moustache bridge rather than the standard pyramid bridge along with the inlaid rosette.

Golden Age vintage style tuners on the headstock.

Tony popped up for his new tenor uke,

Here's the full length photo,

Initials on the 12th fret.

Steve from Intersound came down with Julie, an enthusiastic Brook owner, accompanied by Rod to see how his new Lyn's coming along. Steve picked up his new rosewood Lyn and ovangkol Torridge for the shop.

Two nice walnut guitars here, we were making them to sell on our site but they were intercepted by Vintage and Rare in Bath who are going to be the latest in the exclusive line of Brook dealers!

Peter asked Jack to inlay this plaque of his black lab Indy to tide him over until he takes the plunge and joins the Brook owners club!

Martin, who puts together our 'Babbling Brook' occasional magazine, came down with his wife Di to pick up his new classical guitar made by our good friend Kevin Aram, it's a truly stunning instrument.

Never come across one of these before – A direct copy of an American Harmony Sovereign (above). It's  an Otwin, made in 1963 in East Germany (below), not the prettiest of models admittedly but the Sovereign was used by a lot of blues players along with 1960's folkies still saving for their Martin!

A couple more set-ups here – a Gibson and a Huss & Dalton,

Also this unusual custom made Treslett came in for some repair work.

We lost a very good friend of ours this month – Chris Ayliffe. Chris was a fine player, guitar-maker, a banjo enthusiast and an important element in the expanding folk scene in London in the late '60s and early '70s, he was a good friend of Ralph McTell, John Renbourn, Jacqui McShee, Jo Anne Kelly, Davey and Wizz and integral in the formation of Pentangle, he also designed the sleeve for their final album 'Solomon's Seal'.
We'll all miss him.
April News 2017
Simon came down from Halifax and braved to lanes to pick up his new Taw, he also has the Tamar leaning against the wall here.
The Taw's an 015 model with the higher spec. trim:
Pau abalone purfling, diamond and dot pearl position markers, bound fingerboard and headstock,

Gold tuners, or in this case the black chrome Gotoh 510s.

Here's the bubinga back with a little sapwood bookmatched in the centre.
We showed you Jack's inlay of two swallows last month, the Torridge it appeared on was for Caroline, aka Scarlett Shocks, we'll look forward to seeing some videos of Caroline and the guitar in action!

Phil Taylor has just released his CD 'One Year On' – 12 tasteful instrumentals recorded with two of his Brooks and a Martin.

If you're interested in a copy you can get hold of him here Phil Taylor
John Forrester bought his cherry Tavy from Project Music a couple of years ago, he saw the rosewood Teign for sale on our site, popped down to see us and couldn't resist taking it away with him.

Toby, from East London, dropped in on his way down to Cornwall with his cutaway Tamar for a look around the workshop and a we gave his guitar a quick tweak. Toby's a huge Billy Bragg fan, a seal of approval in our book!

Four guitars boxed up and going off to Forsyth's in Manchester and Celtic Chords in Stonehaven.
Amongst the boxes was this bubinga and sitka Torridge for Celtic Chords, it sold within a week of being in the shop so they ordered another immediately!

Our friend Pat from Las Vegas here with the Tamar we made for him last year and the Ian Anderson pair we made for him ten years ago!
Another montage from the States here – here are some shots of Pete and his new Lyn against the backdrop of the mean streets of Richboro, P.A.

After a beautifully warm month we came in to a rather ominous sky over the orchard the other morning and, sure enough, had an unseasonal April shower of snow before the sun reappeared.
We replaced the rosewood fingerboard on this Les Paul with an ebony one for our old friend Richard James. Andy rewired it with Bare Knuckle pickups, pots and caps. Richard was very happy when we sent it up to him the other day – "The Les Paul has arrived and looks, plays and sounds fantastic. Thank you both very much for such a great job!"
Another Gibson here, unfortunately not their finest design – the plastic lightweight bridge. We've replaced a few over the years, we unbolt the original, fill in the holes and make up a rosewood bridge with the same footprint and a normal saddle, it improves the tone and volume immensely.
Ah banjos! The joys of working on instruments nearly a hundred years old, necks like a banana and no truss-rod! All the same this is a rather nice unusual John Grey Dulcetta zither banjo. And before you say anything – No we didn't just saw the neck off, it was built that way!
Who knows – maybe more banjos coming up next month!
March News 2017
Jim lives locally and came over for his new O.M.

He chose an abalone rosette to set off the Sitka spruce top,

Along with a three piece back of English walnut surrounded by local cherry which we'd cut and dried a couple of years ago.

David came all the way from Kent to pick up the nylon strung Torridge we featured in the February News.

These two Taws will shortly be on their way up to Forsyth's in Manchester,
A figured mahogany and Sitka spruce model along with a cherry and Sitka cutaway one.

This Lyn went off to Mick in Essex,

Check out the figuring on the back!

We also completed this Teign for the shop.
Here's a preview of an inlay of two swallows that Jack recently completed for a new Torridge for a customer we'll be featuring next month.
Again, we've been very busy with various repairs: more set ups and neck re-sets. Amongst the instruments we've worked on this month were this Greek bouzouki, a Gold Tone banjola and a Hicks mandola.

We've also been drawing up plans for a new model somewhere between the size of the Tamar and the Tavy.
It'll still be a while before you see the first finished prototype though!
February News 2017
While the snowdrops are still out I thought I'd start this month's news with an early morning photo of the workshop from the orchard.

Well – here an interesting one! A Tamar built entirely to a customer's design.

The customer sourced the ziricote and the bearclaw top.

He sent us detailed drawings of the rosette and bridge and was insistent on needing a bevel and the soundport,

Here's the headstock with black chrome Gotoh 510s.

John Taylor from Bath came down to pickup his walnut Lyn

And Malwina and Patryeja for Malwina's Torridge,

Rosewood with a sunburst Engelmann top.

A couple more sunburst repairs here: Firstly this Kalamazoo, we've re-set the neck, made a new bridge and given it a good set-up.

Secondly this 60s Levin, always a favourite of mine – another neck re-set some work on the bridge and saddle, work on the frets etc. Both guitars are back on the road and playing beautifully now.

Here's another Brook nylon strung Torridge, we occasionally get asked for these, although it's a crossover 14 fret instrument we use a traditional classical guitar bracing to get a responsive top,

Close up of the smoky pearl rosette, cutaway and bridge

Along with this fox inlay on the twelfth fret.

Three guitars here that we've just strung up for Ivor Mairants,

A figured mahogany Taw, a walnut Tamar and, in the foreground, a rosewood Torridge.

Ant Phillips sent down his Tamar 12 string for some remedial work and a set up.

A couple of months ago I showed you one of the worst repairs to a Martin top we'd come across!

We've re-topped it now keeping the strutting, binding and purfling as close to the original as possible and it's back in peak condition again.
That's all for February!
January News 2017
We're having a fresh start for the New Year with slightly larger photos for our monthly updates,
We hope you like the new format! Maybe not the best use of the larger scale –
Here's a photo of Andy and myself taken by Lars Mullen for a recent Tonetech interview.
These two guitars for the States are rather in limbo at the moment until we find out, along with other makers, how the new CITES regulations regarding rosewood are going to be administered and when we can obtain the necessary licences.
Marcus Corbett's new album is out now, Fiona Talkington on BBC's Late Junction liked 'the obvious warmth of Marcus Corbett….a rich amalgamation of both British and Indian music'. You can listen to and buy the album on Bandcamp.
TV's enjoying his new Taw and getting a lot of favourable comments about it!
These two photos were taken in Brussels during a five week tour with the UK Subs.
Rob here brought the stock OM and sent us this excellent photo. He emailed to say " Thank you from the bottom of my heart for what is a fabulous guitar… I feel very lucky to have snagged it before someone else wised up!". Robbie J previously said that this was one of the finest OMs he's ever heard!
And talking of Robbie, he popped down with his bass so we could take some photos for his article in the next Babbling Brook, he's certainly making the instrument his own with his bass arrangements of Celtic tunes, check them out on either his or our YouTube channel.
Here's the bass in the orchard amongst the annual snowdrop display.
Robbie's thinning out his guitar collection and has reluctantly left his long-scale bubinga 12 fret Tavy to see if we can find a buyer.
Singer and guitarist Paul Downes recently acquired this tenor guitar we made back in 2010,
You might recall we designed this with an Art Deco theme in ebony and maple,
Here's a shot of the instrument before top went on. Paul has a really extensive touring schedule this year, he's intending to incorporate  the new tenor in his set so try and catch him if he's in your area.
Phil dropped in to the workshop with the intention of ordering a Tamar, coincidently we had a stock one in and ready to go so Phil snapped it up and saved himself a nine month wait!
Our friend Dave came down from Dorset to show us how his redwood and rosewood Taw had developed in the last year.
We've just strung up this little Creedy for our shop.
Caroline aka Scarlett Shocks came down to oversee the carving of the neck for her new cutaway Torridge.
We refinished and overhauled this Canadian guitar which someone had previously given an unsightly coat of green house paint,
The owner asked Jack to inlay the headstock for her.
Chris brought in a Kalamazoo for a neck reset along with this yew Taw we made about ten years ago, the fish hook inlay represents abundance and plenty, strength and determination. It's a talisman to bring peace, good luck and prosperity. We all need a bit of that!
Chris also brought along this very early Alister Atkin guitar to show us.
We needed to carry out a thorough set up on this Hicks cittern and it's now playing a lot more comfortably.
Now – we've got some interesting and unusual guitars, either being collected or sent off to customers next month so – just as a taster, have a quick look at this highly customised fan fret Tamar that'll be going off to France in a couple of weeks!