December News 2016
OK – Final monthly update of 2016!
Jon came down from York to pick up his new Torridge, it's Jon's second Brook, we'd built an 015 Creedy for him back in 2004.

This time he went for a Torridge with a Venetian cutaway,

With bubinga back and sides

Bubinga head veneer with the old logo to match his Creedy, Waverly tuners

And a sound-port
Yes – the obligatory photo of the interior through the sound-port!

James Bartholomew came to pick up his fan-fretted Tamar,

He went for a 630/650 mm scale

With a tight grained German spruce top and rosewood back and sides.

He asked Jack to inlay this dragonfly around the 12th fret,

here's the headstock with Gotoh 510s with ebony buttons, the fan frets aren't very obvious from the angle of this photo!

George came down from Milton Keynes for his new Brook uke,

A cedar top on this one

With figured mahogany back and sides. George is a fine player and we enjoyed listening to the new uke in action.

Another small bodied instrument here, the first Bovey for a while, this one with a tobacco sunburst top,

We built it for Chris who's a long-time supporter of Brook and has had many instruments from us over the years.

This beautiful Venetian cutaway Torridge with an Engelmann top has just gone up to Bristol,
The customer asked for this sea trout inlay on the headstock.

Jim's over in Australia right now but his parents collected his new cherry and sitka OM so it'll be waiting for him on his return, hopefully we'll get a photo in the New Year.

And another OM here, this time a bubinga one for Forsyths in Manchester,

We gave the purfling a red theme as you can see here alongside the sitka top.

Tinker came over from Norway to drop off his Weaver, he asked if we could narrow the neck a little for him, we did the initial work while he waited which may have been a bit of a shock!
Here's the re-finished neck ready to return to Tinker.
Jed and Maggie work in music therapy in care homes in their area, they also raise funds for Dementia UK, a very worthwhile charity I'm familiar with after losing my father to the disease earlier in the year. Anyone wishing to can donate here: https://www.dementiauk.org/donate/

Repair section:
I don't want you to think we've got a thing about Martins, we've had some very good ones through the workshop over the years but really – we've had a lot with finish problems and where the binding has sprung off, this one the fingerboard binding had fallen off completely and the binding on the waist had come away on all sides.

Now we did have a new one in last year where they'd forgotten to put in the neck bolt completely, whereas on this other new one they'd just omitted to add the odd washers on the tuners – slightly less important!

Amongst the other set-ups this month this Gibson 160E came in for a fret dress and set-up after the customer had previously paid for an unsatisfactory job on the same instrument by a local 'reputable' guitar shop.

This 1950s Gibson came in for a neck re-set and to change it to a lefthander, it's a good example of a previous appalling attempt at a vintage re-finish, not much we can do to save this one but it sounds pretty decent and the owner's not too worried about the look of it.

This Manson Cittern was sent down for a refinish and to re-fix the tip of the headstock after it had taken a knock.

Season's Greetings to all

We'll be starting next year in a slightly different format with larger photos in our monthly news updates so we hope to see you in the New Year.
November News 2016
TV picked up his new Taw,
We made this thin-line model with a detachable neck so Tim can take it apart and fly with it as hand luggage rather than risk it in the hold

As you can see…
The Shock of the New: TV's twenty year old Taw and the new one!

We made this Taw for Amy Newton, a fine singer/songwriter from North Devon, she chose some local cherry and walnut for the back and sides

And we inlaid the logo from her studio on the 12th fret.

Here's Amy debuting the new guitar at a gig in North Devon, she took her Martin along as well but the Taw sounded so good she didn't bother to use the Martin!

Ged came down from Salisbury for his new Florentine cutaway OM,
He chose this bubinga

And we went for a red theme again but this time with cherry binding.

Here's the full length shot.

I went up to the Intersound Guitar Show last week and delivered their latest Brook – this little rosewood Weaver.

On our YouTube channel now – check out the John Forrester trio with Linze Maesterosa & Jenny Carr performing 'Butterfly Catcher' at The Harrison in London. The song's from the forthcoming album……
This mahogany Torridge went off to Gerry in Washington, D.C.

Pete Berryman came over for a refret on his fifteen year old custom Tamar.

Andy ended up wiring up another of our friend Stan's guitars he makes to auction off for a children's charity. They're loosely based on Brian May's guitar, unbelievably there are about fifty solder connections to make on the one guitar, hope this one makes as much as the last!

Chris bought his Torridge from Ivor Mairants in London and came down by train for his free set up, we picked him up from the local station, took him back to the workshop, set up the guitar, and spent a couple of hours there before taking him back for his return journey.

David, in the States, sent us this photo of Wayne Henderson playing his Taw, master guitar-maker and player Wayne was giving a charity concert for a small group in the mountains of Virginia on Sunday 30th October!

This very nice Sobell came in for a set-up

And this gorgeous little 1955 Martin tenor for some T.L.C.

I guess the repair side of the business is all grist to the mill but we sometimes despair when we see the work of other repairers.
A couple of examples : These replacement tuners weren't even screwed home leaving a large gap between the plate and the headstock – naming no names but this was by someone in the business who should know better.

This Martin came in with replacement tuners delightfully held in position with gloops of araldite.

And how about this for a repair to a Martin soundboard – the customer decided the best approach after seeing this disaster was for us to re-top it! Well enough of that.

Finally – Tim debuting the new Taw in Penzance.
Thanks to Pete Knight for the photo.
October News 2016
When I got to the workshop the other morning the mist was just starting to clear, here's a photo with Nymph Woods in the background – and before you ask – no we haven't seen any!

Richard from Bristol popped down for his beautiful new Taw

With an Engelmann top,

It's a little deeper than normal with a figured mahogany back and sides.
Here's the back and front of the headstock.
John's an old friend of ours, he picked up his third Brook a few weeks ago, he'd always fancied an all mahogany guitar,
We made his new Tamar out of this lovely dark reclaimed mahogany.
Here's the close up
We're working on the new issue of Babbling Brook – Martin took a trip to London to interview founding member of Genesis and solo artist Ant Phillips who has three of our guitars!
Stephen, blending in well with the lime tree in the orchard, came down from Kent for a set up on his Torridge and his Bown. He also has a Lyn but found this second-hand mahogany Torridge in Project Music in Exeter, we're not quite sure of how it got there as we'd made it for a shop in the States!
Here are a couple of shots of the cutaway thinline Taw with a removeable neck we're making for T.V.
Just a few finishing touches before we hand it over!
Steve Lane sent us a photo of himself with his maple Tavy at Acklam Park Open Mic. Steve told us "folks said the guitar sounded wonderful" – and the songs of course!
This red gum Torridge went up to Intersound.
Now our regular repair feature:
Andy and I have had quite a few guitars on our benches this month, amongst them this Manson Magpie we made about twenty years ago,

And this Bluebird that Andy Manson made a few years ago.

Nice to see this Creedy again when it came in for some T.L.C.

We made it about fifteen years ago with an all-over black lacquer and dark pearl purfling

Along with a dark pearl vine inlay, we haven't had to inlay a vine for many years!

A rather nice old Levin, it's always a pleasure to see these.

This guitar came in for a set-up, it brought back a few memories – my first hand-made instrument was a similar model to this made for me in the early seventies by Norman Wood in Sennen, down near Land's End in Cornwall.
Visiting Norman's workshop all that time ago was the initial reason I decided I wanted to make guitars!
And here we are forty or so years on……..
September News 2016
We seem to have had a lot of interest in our guitars this month and all but one of our stock Brooks have gone to new homes, we only have the rosewood OM left. Simon from Halifax liked the Tamar we sent up to him so much he came back a couple of weeks later and ordered a bubinga Taw! Phil from Dorset came down to pick up the figured mahogany 000.
John from South Devon collected his five string baritone uke.

There's a fourth course octave pair so you can get the best of both worlds – the high and low D!
Here's the ever popular figured bubinga on the back and sides.
Two sets of shop orders this month, the first went to Forsyths in Manchester,

From front to back: a cherry Torridge, a rosewood cutaway Tamar, a figured mahogany Taw and a rosewood Teign. We heard that two of these were sold shortly after they arrived!

These two, a cherry Tavy and a rosewood Taw are just about to go off to Project Music in Exeter.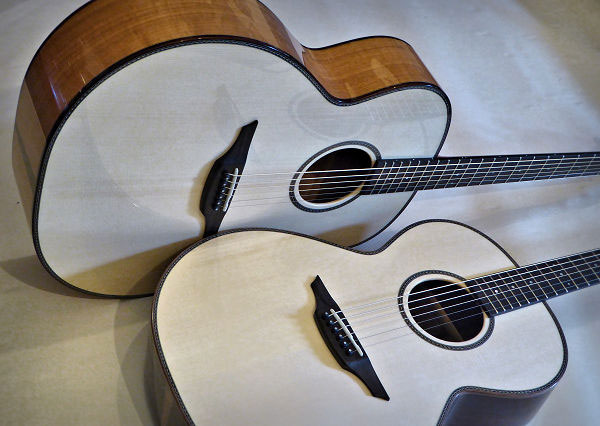 Dev, who we've featured on our YouTube channel, came over from India to visit. He bought his Torridge from Ivor Mairants in London some years ago, so far Dev is holding the record for distance travelled to get his free first set-up!

Dev stayed with me for a couple of days and wanted to visit Poldark country so I took him down to St. Ives….

…..To visit the residents

Which reminds me – I was amused by this sign on a lamp-post at the Wadebridge Folk Festival.

Will Riding bought Fliss' Torridge and sent this photo of its first outing at the Chester Live Music Festival.

Lastly a couple of the latest photos of TV's Taw with the removable neck, here I'm giving it a final sand before it goes to the spray-shop

And here Andy's giving it its first coats of lacquer, we might well get this one together for next month's news.

Finally –
I was looking out some bits and pieces for a Brook display at a local craft fair and came across these two photos of me and Andy from the early days in the mid 90s,

These the first batch of Mansons before we started concentrating on our own range – a little piece of obscure history!
More current Brook news next month.
August News 2016
Back in March Norman came down and selected his favourite set of spalted figured sycamore for his Torridge, here he is collecting the finished guitar.

The sycamore came down in a storm a couple of years ago, we picked it up from a paddock just a hundred yards from where Andy lives in Sandford!

Here's the completed guitar.

Norman came down when there were a fine display of snowdrops in the orchard here at Easterbrook so he didn't have to look far for inspiration for his inlay – again expertly executed by Jack.

Here's the alternative pearl fingerboard inlay that we've previously used.

We made this Weaver for our shop

And this Tamar, the two recently have been smapped up by customers in Birmingham and Halifax respectively.

Here are the talented Wheeldon family – Claire, Holly, Jamie and Summer playing some fine bluegrass for us! Claire came down with her cedar Teign for a set-up and some TLC.

A customer came down from Windsor to pick up his cutaway Taw, the top's a fine set of Sitka,

The back – rosewood with koa binding and a satin finish on the neck.

A couple of weeks ago Tony McManus visited Celtic Chords in Stonehaven and seemed to enjoy playing the batch of Brooks Pete had in stock!

Marcus Corbett popped in with his Taw to say hi and dropped in his latest CD, we'll talk more about that when it's released in October.

I went to see the excellent Urban Voodoo Machine the other week when they played a rare West-Country gig, they invited TV Smith on for the encore, you can check out the video on our YouTube channel.

Talking of the man – here's the latest photo of his new thinline Taw – made to be taken apart, hopefully making the flights abroad a little less stressful!
Here are Ayse and Sinan
Sinan Tuvan got in touch a couple of weeks ago asking if he might come down for a few hours to take some photos of the workshop, here's a preview of some of the photos you can see on his site at sinantuvan.com along with a video. We'll be adding it shortly to our YouTube channel, apologies in advance for my rather vague mumblings on the soundtrack and some rather dodgy playing on my tatty old Harmony! Lovely photos, thanks Sinan!
Now the inevitable repair section: Two headstock breaks for the price of one here, the most common break – a Gibson and far less common – a PRS.

We had this lovely 1965 Fender Jaguar in for some work on the frets, a saddle problem and a set-up.

This nicely battered '57 Martin came in for a new bridge.

And a slightly less desirable Martin, along with a Yamaha.

Last but not least – Roger, Exmouth's Town Crier, bought his fan fretted Sanden down for us to lower the action. He's obviously pleased with the result!

We've just come back from a long bank holiday weekend to lots of enquiries about custom builds and even more repairs so – more next month…..
July News 2016
Introducing our latest addition to the range – another small parlour, this one with a 595 mm scale, we've called it the Abbey:

Here's the body close up,

This one's for Ian Anderson of Jethro Tull so it has his trademark pearl rosette and he supplied a Fishman Rare Earth pickup for the sound-hole.

These Golden Age tuners seemed the most suitable option for the diminutive solid headstock.

To give you a true idea of the size here it is in the playing position. The guitar plays beautifully, Ian's hoping to debut it on stage later this year.

Nice to see a couple of our older guitars revisiting the workshop this month for a quick look over – a seven year old Tamar and a seventeen year old Torridge!

Ornithology Corner: We don't often see Jays, apart from in flight, around here, here's one in the orchard though along with a grey wagtail, if we're not mistaken.

We also had a batch of elderly Bantams that Andy led out here the other weekend
Robin Dransfield is highly respected nowadays for his work on violins and cellos after his heyday in the '70s with brother Barry in The Dransfields. He brings his guitars to us for renovation! We re-set the neck on his vintage Martin a couple of years ago, we've just re-set the neck and made up a wider fingerboard and bridge for his Levin and set up his old Harmony Sovereign.

We're pleased to see Robin's out gigging again with a couple of prestigious spots at the Sidmouth Folk Festival this year.

It's been another month when we've been trying to clear some of the many repairs that arrive on our doorstep: Amongst the other renovations were this Stella 12 string which had a broken truss rod, needed a neck re-set, a new bridge and gluing back the various braces that had come adrift.

A neck re-set on this Keech as well. There are plenty of Keech banjo ukes out there, the odd standard uke and tenor guitar but we can't find out anything about this seemingly unique Keech guitar. We welcome any information we can pass on to the owner!

Three more guitars in for work – this old Japanese Antoria J200, an old Fylde and Kevin Aram's Silvertone for a body respray it its original colour.

Kev also brought over this Precision bass body, he'd commissioned a local artist to paint it, we just gave it a couple of coats of lacquer to protect the artwork.

This Kalamazoo was a tricky repair, it came in pretty much unplayable with a bent neck and the intonation way out, yet another re-set on this, as well as sorting out various other issues – a lot of work but it'll leave here a really comfortable, useable instrument.

We were joined by Harris who helped with some very useful but dusty preparation work during his week here on work experience.
Martin, who edits 'Babbling Brook' sent us these two photos from a studio where he's recording with a friend of his, the consensus was that his Okement sounds wonderful!
June News 2016
We have several fine guitars to show you this month: First of all a cutaway OM for Tony who's now into double figures with his collection of Brooks!

This time he chose this stunning curly redwood for the top,
Bubinga for the back and sides.
Jack designed and inlaid this kingfisher on the headstock
And we designed this coded 12th fret inlay for Tony, if you can work out the significance send your answers on a postcard and we'll publish the winners cards in next month's news!
Next along for his new Taw was Clive from Chesterfield,
Here's the full length shot of the guitar,
With a bearclaw European spruce top,
Cherry and walnut back,
MW insignia on the 12th,
And our alternative shape for the slotted headstock.
Next out this month was this Bovey for Laurent in France,
When he received it he got in touch straight away – "it's just "Wow" and amazing, so impressed by the sounds and voice delivered by this small beauty, thank you so much!"
A Taw, Tamar and Clyst for Ivor Mairants,
Two in walnut and a figured mahogany Taw.
A walnut and European spruce Torridge for Project
And here they all are packed up and ready to deliver.
Jack's working on a new Taw for TV, this time we're going to have a removable neck to give him the option of breaking it down for travelling,
Double cross bracing for more stability for the constant gigging. TV's been putting the photos of the build on his Facebook page and getting plenty of positive comments!
Pete Walton got in touch with us recently:
"I've had a Torridge for nearly ten years now and love playing the guitar, my favourite acoustic for fingerstyle playing. For the last four and a half years it's been with me in Matilda The Musical in London's West End, so at a rough estimate that's over 2 million people who've heard the instrument! It's such a lovely instrument to play, I always look forward to the parts in the show where you can hear the guitar solo and appreciate it's beautiful sound in isolation."
Checkout Pete's website along with his Acoustic Earth project on our links page.
Anne came along for a first set-up on her cherry Taw, she plays regularly in West Cornwall.
Finally – it was great to see our old friend and mentor Andy Manson who was over from Portugal for a holiday!
May News 2016
First strung up in May was our new 000 style Aune model we made to go in the shop. We came across this fabulous figured mahogany and used it for the top,

Back and sides,

As well as constructing the neck from it!

I'm afraid we had a couple of requests for us to be included in the customer's photos this month, if you're easily offended – look away now! Siegbert came over from Germany to collect his new Tamar.

Here's the full length shot

It's worth zooming in a little to see the figured, curly Douglas fir top and the English walnut back,

Zooming closer in on the top!
Tony bought his lacewood Torridge from Ivor Mairants about ten years ago, he took us up on our offer of a free first set-up last week.

Oh dear – us again – Pat, from Las Vegas, asked that we send a photo of the crew who made his new cutaway rosewood Tamar before we sent it off, he's promised his own photo in time for the next update.

Mike's a local player and runs an open mic in Calstock, he came up to the workshop recently and bought the local cherry Taw we had in stock.

Early in the month Paul picked up the Epiphone that Andy had converted from right-handed to left. We were all really pleased with the result –
Andy disguised all the old holes and refinished the top.

A customer bought in this vintage Stella 12 string that arrived from the US unplayable and with a broken truss rod, we're resetting the neck and putting in a new rod, hopefully a shot of it complete before too long.

Three interesting instruments in for fretting or refretting work recently: this double cutaway Fossey banjo/guitar, an Orpheum plectrum guitar and a very ornate Vega plectrum banjo.

We've mentioned the new parlour we've been making, here it is before I carved the neck and prepared it for the spray room,

And here's the latest update – masked up and awaiting its first coats of lacquer.

Another preview here: the customer is coming down to pick up this lovely cherry and walnut, fruit and nut Taw in June, more pics then!

Here's Nigel's maple Taw that was separated from its neck by over enthusiastic baggage handlers on its way out to New Zealand recently, back together and ready to brave the airways again.

You may remember we've undertaken several repairs on Phil Bird's yew Tamar, firstly a speaker fell off a shelf through one of the ribs, then a few months ago in Cyprus the guitar was sat on after an enthusiastic Greek dancing session! This time it's Phil in the wars, after rupturing a disc and being laid up with heavy duty painkillers for a month he found the only guitar he could comfortably play was his little walnut Bovey.
We wish him a speedy recovery!
April News 2016
Robbie came down to pick up his new Okement bass, here he is in my kitchen giving it its first work-out!

This is the second instrument we've completed using the new J200 style shape.

Here's a close-up of the bearclaw Engelmann top, we used a red theme for the purfling and rosette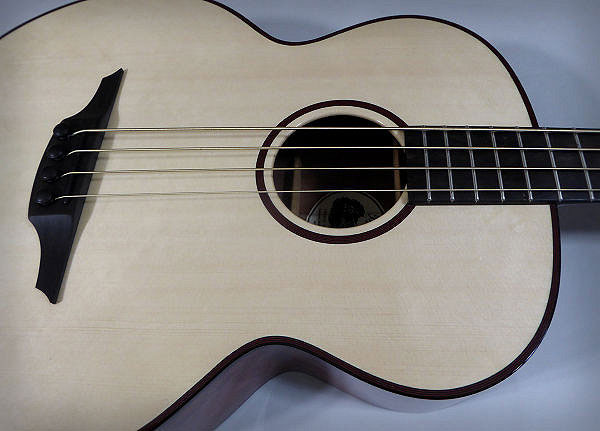 To complement this stunning figured bubinga back and sides.

Robbie chose these distinctive Da Vinci Schaller tuners and we inlaid a small Celtic knot on the headstock.

We finished this walnut Lyn and red gum Tamar for Intersound and Steve and Denver came down to pick them up.

Andy delivered this rosewood Taw and a bubinga Taw to Project Music in Exeter.

We made this English cherry Taw for stock, you'll see it on our 'Shop' page along with other guitars available directly from us.

René came across from Holland to pick up this cherry Torridge he'd taken a fancy to from the shop.

Jake popped in with his trio of fan fretted Brooks for a quick tweak (the guitars not Jake!)

Now for our regular repair section:
Firstly Phil's Tamar, we mentioned last month that it had been sat on and the neck had been unceremoniously detatched along with parts of the top, it's back together again now, none too worse for the experience!

Paul brought this Epiphone in for a major overhaul, we're swapping it over to a left-hander, it's surprising how much work is involved, you'll see the results next month.

Here are a brace of Guilds, the one on the front was in for a set-up and fret dress, the one behind for a neck re-set.

We had to repair a few cracks and re-glue the bridge on this pretty little Victorian parlour guitar.

Which reminds me – Tom, in the U.S., sent us this photo of his Ian Anderson guitar in its beautiful new custom made case,

And speaking of which – here's a preview of a new model we're making for Ian.

Lastly a photo of Tony Hazzard with his Brooks in concert at the Convent in Gloucestershire, this must be one of the UK's most beautiful venues.
March News 2016
First off the mark this busy March we'd like to apologise to the very talented Ellie Goulding for appropriating this photo from her Facebook page, she was in No.Tom Guitars on Denmark Street buying a Taw.
We made this custom Taw for Giles Andreae, children's author and creator of Purple Ronnie,
Giles couldn't get down to pick up the guitar so we shipped it up to him, he sent us down these photos of himself with the guitar enjoying a pleasant Spring day together by the Thames!
You might have noticed that Giles decided against the pick-guard, here's a close up of the position markers we came up with to make the design just a little different.
Chris was down from Croydon to pick up his beautiful 'fruit and nut' Lyn.
The back features the last of the walnut from Kew Gardens with a centre stripe of local cherry, the neck woods repeat the theme,
Chris came up with this design for the fingerboard inlays which we cut from phosphor bronze and Andy turned the two different sizes of matching position markers out of the same material.
Chris also chose this dark Sitka top.
This cutaway O.M. was another fine guitar we completed this month,
It goes without saying it was custom made for a keen fisherman!
The back is some of our heavily figured bubinga, quite a popular choice recently –
Bubinga again for the head veneer with the stylish gold Gotoh 510s.
Another cutaway here, this time a Florentine style on a walnut and German Spruce Tamar for Celtic Chords in Stonehaven.
Another new model on the go – this time an even smaller short scale parlour.
We built this much travelled, jazz influenced Taw nearly twenty years ago, it came back for a neck reset and we returned it to the customer playing like a dream.
Unfortunately, in this case, it was followed by a nightmare! – on the way out to New Zealand it suffered a broken neck in the hands of a rather too casual baggage handler – looks like we'll be seeing it again when it returns to the U.K.
Mr Bird's guitar has been in the wars again, Phil and Anna were in Cyprus playing a concert and sometime later SOMEONE sat on the guitar.
For the perpetrator's future reference this illustration might be of use, to the left is a guitar, to the right is a chair.
Norman visited the workshop and picked out the woods for a Torridge,
He's had first pick of this stunning spalted sycamore we found a year back and is now ready to use.
I went along to the annual RMMGA meeting in a wonderful old mansion in Gloucestershire, alongside a display of Brooks there were also fine guitars on show by Adrian Lucas, Tony Thompson and Alan Marshall, guests included Amrit Sond and Clive Carroll but the highlight was probably watching Dave Wood and Louise Loft working up an obscure Sandy Denny song together!
Stephen Kenyon called in and we fitted a Fishman Rare Earth Blend system in his Tamar.
Marc came up from Plymouth for us to fit a couple of pickups on his two guitars, Many years ago we made a Tamar for his older brother, since then Marc's become a fine blues guitarist in his own right, hopefully he'll be a future Brook owner himself!
We had a couple of nice messages from the U.S. this month: First of all Tulley, who we made the recent left handed classical guitar for, sent us this photo taken at Peak Recording in Bozeman, Montana. He added "Thank you, again for such a beautiful and inspiring work of art".
We had the pleasure of making two guitars for Woody Mann about twenty years ago, we've met up with Woody a few times since and we still hear from him, earlier this month he got in touch to say:
Hi Simon and Andy,
Long time… Hope you both are well. Just wanted to let you know I've been playing the guitar you made and it is sounding and feeling great. Time has opened the guitar up and it has found its voice – a beautifully even and rich tone from the highs to the lows. It's just fun to play …. Just wanted to let you know. Great work.
All the best from New York. Woody
February News 2016
We're featured in the March issue of Guitarist with a double workshop spread, thanks again to David and Joby for that!
We'd like to announce another new model, this time the OOO size Aune, here's a full length shot of it,
Mark commissioned it and here he is picking it up.
It'll be our biggest body 12 fretter, with a 650 mm scale length,
Here's the rosewood back
With the attractive pomelle binding.
And here's Mike picking up his Torridge,
He chose Jack's eagle inlay for the headstock.
Nick here recently bought this Lyn. He said "over the last 45 years I've played all the very best makes of guitar, and have to say this Brook Lyn is one of the very best, if not the best". Nick's impressed enough with his purchase that he's already contemplating his next Brook!
Tony Hazzard has a new album out – The Hallicombe Sessions, we thoroughly recommend it, it's recorded, mainly live, by Tony at home, accompanied by Utah musician Matt Harding, check out 'Loving On The Run' from it on the Brook YouTube channel.
The video was shot at the album launch at the Green Note Cafe in London.
John Forrester recently bought his Tavy from Project Music in Exeter, he's a musician friend of Robb Johnson and Tracey Curtis, both also Brook owners!
His last album was released in 2014 so we're looking forward to hearing the Tavy on the next album, check out John's first video with it, shot at Venford Reservoir, on our YouTube channel.
Here's a shot of Jack with Andy's new fixture in position, the rather complex piece of engineering ensures we cut a precise binding rebate.
Here are a couple of photos of Pat Nestor's cutaway Tamar before the guitar is packed up and sent off to Pat in Las Vegas,
It's our more ornate 015 model with pau purfling and an Adirondack top.
Alan, from St Ives brought his Taw from us sixteen years ago, back at the time Alan wanted a matt finish, he decided recently that he would like the full gloss treatment so we were happy to oblige!
Plenty of set-ups and repairs this month again, amongst them some fingerboard work and fretting on this Phil Davidson mandola for Phil Bird.
Here's Rob from Model Folk along with Kate, also playing a Phil Davidson mandolin, and Robbie. We fitted a Headway pickup to Rob's McIlroy tenor while Robbie looked over his, soon to be completed, acoustic bass.
Second in the series of photos to show why makers like ourselves sometimes are unable to put as much time to playing our guitars as we do making them!
Hopefully everything will heal up and we'll be playing together again next month!
January News 2016
We start the year with John picking up his Kew walnut Torridge, just one more set of this coming along on a guitar next month.
Dave Rich is a local musician who runs open mic sessions most days of the week around Devon and Cornwall as well as gigging in his own right, he came over to collect his new Taw,
He provided the Rare Earth single coil, one of the most reliable pickups around,

Here's the walnut back.
Bernard came down from London for his Clyst,
Normally this would be a 12 fret model but we re-designed the strutting and sound-hole position to make it our first 14 fret Clyst,
Here's the bubinga back with contrasting maple binding, along with a maple neck

And gold Waverly machine heads.
Another Carey classical guitar here – this one, a left-hander, for Tulley in Montana.
This is Tulley's second Brook, the guitar is winging its way over to him as I'm writing this so hopefully we'll get a photo for next month's news!
Talking of classical guitars – here's Bob with the very first classical we made twenty years ago, Bob came over with that common problem – the lid fell on the guitar and dinked the top when he was getting it out of the case, luckily this time it didn't do much damage and we were able to do a quick spot repair.
Leading on to repairs – as you can see they've started building up again:
Some of our Brook owners may have been slightly less conscientious about guitar safety over the winter break (pun intended) whether alcohol had been consumed or not we don't know. Names have been withheld to protect the guilty parties! This Tavy slipped over on a wooden floor.
Above we have the before shot and below its back together again.
Here are stages of a Bovey headstock repair – this involved gluing the break and re-spraying the neck. In the lower photo you can see part of a fine hand-made case the customer had made for the instrument.
This Torridge suffered its injuries when the hanger came off the wall and shattered the tail block and ribs,
Here it is back together again.
Andy did quite a bit of work on this lovely old Keech Banjo-uke, now it's been set-up properly it's become a really playable instrument.
Amongst the other repairs and set-ups this month we had a re-fret of this Martin D41, complicating matters we found the celluloid binding had shrunk and was falling off so we had to deal with that before getting to the re-fret.
Anyway – here it is back in all its glory.
That's it for this month, we also sent a few guitars up to Intersound in Dursley, unfortunately we forgot to photograph them!
News 2015
News Archive 2015
To Scroll use the right scroll bar
December News 2015
Another year coming to a close, keep an eye out for a feature on our workshop in the winter issue of Guitarist's Acoustic quarterly.
Jake here picked up his latest fan fretted guitar – this time our new Okement shape based on the J200.
This time we went for a 650/680mm scale length, a reasonably wide fingerboard and a general black and white theme with the guitar made of maple and ebony,
The guitar has a Florentine cutaway, the rosette is a patchwork of pieces of variegated ebony. Jake was really pleased with the way it turned out, very different from his other two, with the big body size it has a really powerful bass with singing top end.
Another new model – The Culm, we can make this as a standard flat top or as the small resonator we have here:
It's David's second Brook, Bryony's taken a particular shine to it so it looks like she's going to be playing it at much as he is!
Here's a close up of the rosewood top, we've used a Beard spun cone with a biscuit bridge which allowed us to keep the body size down. The pickup is an excellent Bare Knuckle 'Stormy Monday'.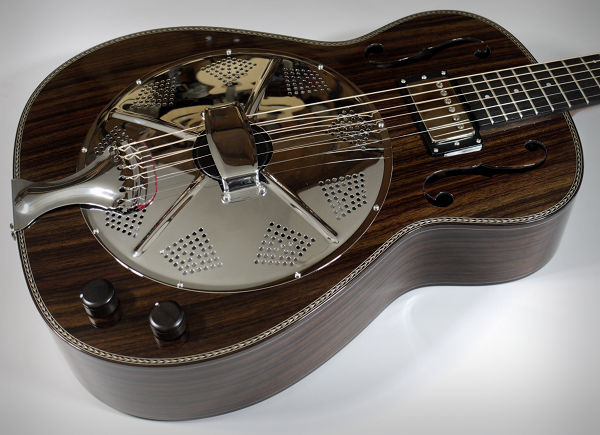 And now a third new model – it's the redesigned Little Silver, we adapted it slightly to fit a Gator hard case for the Baby Taylor.
Just to give an idea of the size, here it is with the fan fretted Okement partially in view above it.
This one went up to Richard in Nottingham, Richard chose a bog oak, back and sides, fingerboard, bridge and head veneer
And a fingerboard inlay of his own design – similar to the one we inlaid on the guitar we made for him last year.
Martin, who puts 'Babbling Brook' together for us came down with his Okement to play a fine set at the acoustic club at the Okement Centre in Okehampton,
He also picked up his new guitar – the nylon strung Cary we featured in the September news, he's been too busy to get down until now but Martin's assured us it was well worth the wait!
Peter first came across our guitars at Robbie and Dave Smith's CD launch in Bradford on Avon,
He came down to try some guitars and put in a custom order for this Taw with a deeper body.
Here's Tony Hazzard again, this time performing in Bilbao with his Brooks!
There's a new Torridge for sale we've just added to the Shop,
Andy has just made up a new mechanism to help with the binding process, it temporarily mounted to the drill press while Jack tries it out!
November News 2015
Anne runs the Acoustic Folk & Blues Night at the Blues Cafe in Teignmouth on the last Friday of every month.
She ordered this left handed Torridge with bubinga back and sides and a European spruce top.
These three went up to Ivor Mairants in London –
A walnut Tamar and Clyst, along with a rosewood Torridge.
This Ian Anderson model, our first with a cutaway, is on its way to Tom in Colorado,

Jack inlaid the fingerboard with an iris design based on one of Tom's mother's watercolours.
We managed to find some local walnut on a farm in mid-Devon, here are Jack and Kev selecting and cutting it into sets,
And here are the results ready to store and dry thoroughly.
Joby and David from 'Guitarist' came to take some photos and interview us for the magazine.
Tony Hazzard came over to have a Fishman Infinity fitted to his Martin, the same pickup as we put on his Taw,
Tim Broadbent down on the Côtes du Rhône just bought this rosewood Lyn and kindly sent us these photos.
Phil Taylor sent us this one of his Torridge in the room in Fowey where he wrote his latest composition 'From Covington Wood'. Check out both our and their own YouTube channels for Phil and Tim's latest videos.
Amongst the other work this month we repaired and re-fretted this vintage Antoria and made up a new bridge for it.
We'll leave you with three photos of our collection of various stringed instruments we've built up over the years!
We've some interesting new guitars to show you next month for the final Brook News of 2015!
October News 2015
The weather's getting a bit chillier now and when I arrived at the workshop the other morning and looked across the orchard and thought the spider silk between the trees was worth a photo!

Mike, from Gloucester, has expensive tastes, this is his fourth high end 015 Brook – this time an OM.
Adirondack spruce and rosewood on this beauty with pau shell Celtic knot position markers to match the purfling

And Jack designed this inlay for the headstock.

We sent these two Brooks up to Forsyth's earlier in the month –

A Lyn in figured mahogany with a bear-claw Engelmann top and rosewood and European spruce Tamar.

Here's the first Cherry we've made for a while, this one's for a customer up near Aberdeen, it's a short scale travel guitar, there's a Torridge behind to give you a size comparison.

This one has a cedar top and very old and dark mahogany sides we've had tucked away for many years!

It seems apt that we can show you Jack's latest inlay of an octopus in the month of October,

Gavin commissioned Jack to decorate the headstock of his banjo with the octopus triggered by his interest in the stories of H.P.Lovecraft!

As for the repairs this month:
This little nylon strung Bovey had come a cropper somewhere along the line, we made it for a customer back in 2001.

We soon put it back together and it was shortly reunited with its owner.

We completed the work on this nice old 1953 Gibson LG1. Quite a lot involved here with a neck re-set, new bridge along with bracing and splits to repair.

Julian from Delta 88 came to us to have a new bridge fitted on his old Boosey and Hawkes double bass.

Andy weaved some magic on blues queen Josie Lloyd's two Nationals.

We asked Kevin Aram over to look over the latest classical guitar we built and he bought over three of his latest range of instruments – beautifully made cigar box guitars, a little more expensive that the run of the mill ones but c'mon – this bloke's made guitars for Julian Bream!

Oh – apologies for this – that reminded me of this old Cluff cartoon from Private Eye I've had above my workbench for years……
September News 2015
First of all we'd like to let you know that the latest issue of Babbling Brook is now available to read or download from our homepage. This issue includes in-depth articles on TV Smith, Tony Hazzard, Andy Lale, information on home recording, more Brook collectors and a tab of one of Robbie's compositions. As usual many thanks to Martin and Robbie for all their hard work.
You can get it here

The following three new guitars are waiting to wing their way to their owners:
The first classical of the year –

This time we used a Torres design with a few modern features, a nice bubinga rosette and bridge decoration

To match the back and sides of the Cary.

We used these fine Irving Sloane classical tuners with black barrels on headstock.

Next up we have Simon from Lancaster's new OM, a nice European spruce top with red gum purfling
To match the red gum back, Simon asked for Venetian cutaway with a return, rather than our standard drop cutaway – more access to the dusty end!

John will be coming down from Pembrokeshire in the next couple of weeks to collect his new Torridge,

Adirondack spruce for the top.

John sourced this old growth Rio for the back and sides himself.

Andy delivered these three guitars, two Taws and a Torridge, to Project Music a couple of weeks ago,

From top to bottom – English Walnut, Indian Rosewood and Bubinga.

Richard has amused us with some of our favourite customer photos over the years, he sent this delightful 'thank you' for the latest work on his Gibson and Gretsch.

Andy did a fine job completely rewiring Richard's Gibson with new hardware along with a couple of superb Bare Knuckle pickups.
I slimmed down and reshaped Richard's Gretsch resonator neck
Then we gave it a sunburst and re-lacquered it.
Talking of resos – here's a sneak preview of a new biscuit bridge addition to our range, this one is going to be named after the river Culm.

We were very pleased when Forsyths in Manchester featured the Torridge we recently sent up to them in their latest half page ad in Acoustic magazine.

Johnny Butten, banjo player extraordinaire from Hayseed Dixie, was keen to show us his initial reaction to EasyJet trashing his much loved instrument of choice!

We glued the headstock back on and refinished the neck – go to Johnny's site for some expert tuition videos and info about him.

Dave from Cumbria sent his Tamar down for repair, it'd been knocked off a stand and split the neck, here's Dave with the newly repaired guitar – a decent set-up and it's playing like new again!

Looks like things come in twos – this little Bovey lost its neck in an accident as well.
Tommy sent another photo of his new Taw, this time taken from his balcony on the Swedish island!
We've just done a neck re-set on this nice old vintage Gibson, still got loose struts to repair as well as some major splits and make up a more sympathetic bridge to replace someone's previous attempt.

Well here's an interesting repair – we had this Martin in with the neck parting from the body, when we prised the cover off the heel block inside we could see the bolt insert in the heel but no bolt! Someone asleep on the factory line gentleman?

Don't forget to download the latest Babbling Brook for additional information about our hand-crafted guitars!
August News 2015
Carol and Simon called in after their holiday in Cornwall to pick up Carol's new tenor uke, here they are with Andy and myself.
Here's a close up of the highly figured mahogany top
And a full length photo.
We made this Tavy for Simon last year,
We were amused when we saw the cake that Carol made for his 50th birthday!
Derek collected his new Lyn 015,
There were some interesting features in this custom guitar: the curly Douglas Fir top,
An interesting profile on the slotted headstock as an alternative to our standard shape
And this red gum back.
This cutaway Torridge went off to Forsythes in Manchester
And these two, a Lyn and a Torridge went to Intersound in Dursley.
Bryan in Arizona sent us this photo of his new Ian Anderson model with a very suitable local backdrop!
Tommy's backdrop, taken on an island off the Swedish west coast, is a little less inspiring, however – the guitar is! He says " My Taw is so alluring that I have to lock the case in order to get to the office. Amazingly easy to play – and a beauty"
Thanks Tommy!
Phil Taylor went down to Robbie's to record some tracks for a CD,
They gathered up a fine bevy of Brooks between them, we'll look forward to hearing the results.
Well we got TV's guitar back together after the EasyJet disaster, all in time for his appearance at the Rebellion festival, here's the first appearance with the newly repaired Taw (including guest uke player for one number!)
Another outing that weekend, albeit with necessarily limited audience numbers, was the gig on this lovely Blackpool tram!
Another EasyJet casualty here – be warned musicians – this is Johnny Butten from Hayseed Dixie's banjo, the budget airline managed to break the neck of his expensive signature model instrument in two places, you should see the results next month….
Other repairs completed were: This Guild neck re-set
And the 1920's Oscar Schmidt tenor guitar neck re-set. This little beauty required a new fingerboard and bridge as well as dealing with other splits and cracks.
We'll finish off the August News with this black & white shot of my workbench.
Enjoy your summer holidays, see you next month!
July News 2015
These three beauties: a Taw, a Torridge and a Weaver, were collected by Steve from Intersound. We'll be going up to their anniversary show in November.
Amongst the three there was this rather nice four piece back yew Torridge
And this Taw with an unusual curly Douglas Fir top.
Jack's inlay work was chosen for the first issue of Devon Artisan, the magazine included a two page article on him and his work.

Toby acquired his ovangkol Taw from us four years ago, he bought it in this month for its first set up. Phoebe and Imogen couldn't resist picking up a couple of our ukes and joining Toby for the photo!
Martin, who puts together our Babbling Brook magazine was seen out at his local club playing his Tamar for a change instead of his beloved Okement!
We thought we'd take this opportunity to give you a preview of Martin's latest Carey nylon strung guitar getting its first coats of lacquer.
We've been drawing up a couple of new plans for additions to our range,
Each new design requires a new mould so I've been making up two – one for a small wooden resonator with a biscuit bridge and also a redesign of the Little Silver to go in an SKB hard case designed originally for the Baby Taylor.
We had a visit from New Zealand guitar maker Ray Mercer, many years ago Ray moved over to the UK, he took part in a guitar-making workshop with Kevin Aram and worked for a while with Roger Bucknell at Fylde's and also at Andy's in Denmark Street before moving back home. Ray came over to visit some of his old mates and Kev brought him over to the workshop for a visit.
This beautifully decorated little parlour guitar was found in an attic in North Devon and was brought in for appraisal.
Graham, one of our customers, found these old mahogany snooker table legs about to be skipped and thought it'd be a waste of good timber so bought them down for us to use. In some ways it seems a pity to re-saw them, legs or necks – we'll see……
Breaking News!! TV's old familiar Taw is in again for repair, this time easyJet insisted it went in the hold and managed to break it despite it being in the Hiscox case.
It's going to have to be a quick repair – he's playing at the Rebellion Festival next week.
June News 2015
Well June's come round again, the old computer ground to a halt so with the new one up and running at last and a new photo editing program to contend with we'll start this month's news:
We completed several overseas orders, let's start off with this one going to David in North Carolina,

He came over last year and chose an Adirondack top for his Taw along with this set of English walnut,

David sent Jack a design to use as inspiration for this eagle inlay in walnut, ebony, maple and yew.

This cutaway Tavy has just been sent out to Aaron in Australia,

It has a wide yew rosette, yew purfling

And this four-piece yew back.

Here's a close-up of a pretty little Weaver in European spruce and rosewood, this went out last week to Tinker in Norway,

A couple of days ago Tinker sent us this photo of himself with his new guitar taken at midnight on midsummer's eve. The tradition is, in Southern Norway, to go out in their boats, burn huge bonfires and have a drink or three – a very fine tradition too, if I might say so!

This Taw is about to be boxed up and go off to Tommy in Sweden,

Another yew four-piece back

And a cat inlay in pearl on the twelfth fret.

Another Ian Anderson model completed this month, this one's going off to Brian in Arizona.

Now – customer time:
Mike bought the beautiful sunburst Torridge we had in the shop and ordered another Torridge in the last of the Kew walnut.

Hilary, from Cornwall, picked up this second-hand 12 fret Torridge locally and came up to have a look around the workshop and show us her new acquisition.

Andrew brought over his Clyst for a set-up.

John Middleton, from Somerset, picked up this second-hand O.M. as he felt his Taw needed a companion!

Liam bought this new walnut Tamar from Celtic Chords in Stonehaven.

Colin was happy with the repairs to his Lowden and Hermanos guitars, both had suffered fairly major damage and required several struts to be re-glued amongst other problems.

These two Kalamazoos needed major restoration as well, we recently completed the work and sent them back to our old mate Roger in South Wales who was very pleased with the results!

More international orders next month – and more yew….
May News 2015
We'd like to thank Julian Piper and his daughter Lucy for their work on the article about us in the latest 'Acoustic'!
Jamie came down from Wiltshire for the cutaway Tavy we featured in the previous month's news
And Darren came down from Nottingham for his Weaver,
Here's a close up showing the tortoiseshell style purfling and the pyramid bridge.
Eric didn't have as far to travel, he only lives a couple of miles up the road and came over to collect his Teign.
He ordered this sunburst, 12 fret slope shouldered model,
Andy got to grips with a complex pickup system combining a L.R. Baggs Lyric and a K&K Pure Mini.
You may remember last September we put up a photo of Peter with some walnut he'd just acquired from Letheringsett churchyard.
Here's that same walnut on the O.M. model we made for him,
He came down from Norwich to pick up his new instrument and was delighted with the result!
You may also remember this badly damaged Taw, we re-topped it and Phill's obviously very happy to see his favourite guitar back in one piece!
This Ian Anderson model went off to Wolfgang in Germany, the first of a batch of international orders – more of that next month….
On to the repairs:
Three Lowdens in for various things from a rebuild to a set-up.
This old Framus bass for renovation, also a fine old Yamaha.
This Jerry Bix Tele was brought in, the customer wanted us to make up a pick guard to imitate George Harrison's famous Tele.
Talking of pick guards – we were resetting a neck on a 1930's Kalamazoo and we removed this, supposedly, original one – it turned out to be fashioned out of a piece of 1960's vinyl!
Lastly – Jack and I sent some work over to the Shady Grove Gallery for an exhibition in Ringwood,
Here are some photos of the gallery with Robbie playing centre stage.

See you next month.
April News 2015
This Taw is for Dave from Shady Grove,

How about this stunning figured redwood top!

Anne came up from Cornwall for her Taw,
Another 'fruit & nut' with cherry and walnut back
With a European spruce top.
Here's the heelcap, with her initials inlaid in the corners
And Jack inlaid a Celtic Knot in the headstock.
Another three piece back this month in cherry and walnut for Jamie in Wiltshire –
And the Tavy full frontal. Hope to get a photo of Jamie picking it up next month.
Vince picked up his little mahogany Clyst.
We've managed to find some more of the beautifully figured mahogany which we cut into sets a couple of weeks ago!
We've got this Lowden in to repair – it's taken quite a battering.
Amongst many other repairs we worked on this unusual hand-built guitar.
We say a sad farewell to John Renbourn who passed away a few weeks ago, I was lucky enough to see John play with Wizz Jones at Wadebridge last year and Topsham last month. Our friends Dave Wood and Michael Dunnigan also enjoyed their company and got to play with them at the last RMMGA meeting the weekend before he died.

8 August 1944 – 26 March 2015
March News 2015
We all took turns watching the eclipse through Andy's welding mask the other
morning in the orchard! the photo doesn't capture the full effect unfortunately but
gives you an idea of the atmosphere as the moon passed in front of the sun.
Back to guitars: This walnut Taw went off to Project Music in Exeter
And these three, two Taws and a Tamar were picked up by Denver for Intersound.
A while back we came across some interesting spalted sycamore from a local farm,
we recently cut it up and are in the process of converting
some really interesting sets for future use.
To give you an idea what it is likely to look like here's a set in our Tavy mould.
We're pleased to announce the arrival of a new model in the Brook stable,
it's J200 size, we're not sure yet if it will join the Okement
or replace it in our super jumbo range.
We completed that David Oddy tenor guitar conversion, here's the new neck going on
And here's the finished guitar.
Along with other repairs and refinishes this month we had a couple
of necks with the headstocks broken off, firstly this Duesenberg,
Then this lefty Les Paul, here's a montage showing some of the stages including someone's previous rather inelegant attempt to repair it with a couple of nuts and bolts!
Note to Roy – now we've done all that work on it put some decent tuners on it!
February News 2015
Richard, from South Devon, picked up his new cutaway Lyn,
So we'll proceed with some shots of that. Firstly the full length portrait,
One of the yew back
And one of the yew head veneer provided by Richard's father.
Richard also asked Jack to inlay a small harp on the 12th fret,
Jack cut this by hand from a single piece of pearl!
Andrew and Gracie are holding the two guitars we made for them
a couple of years ago, Andrew's father David, a fine player,
was impressed with the quality and coordinated a family visit
with coming down and ordering a Brook for himself!
Here are the covers of Robbie and Dave Smith's fine new albums
Along with the reverse sides. More information on http://chalkhillsmusic.co.uk/
Julie came down from Gloucestershire with two of her trio of Brooks for set-ups
And Steve and Denver from Intersound picked up their latest two guitars
A rosewood Taw and a red gum Tamar, then promptly ordered some more!
Stephen picked up the Lyn he'd ordered
and brought along his Taw for us to check over.
Alpine spruce top with a pyramid bridge,
One of the last sets of Kew walnut
And the increasingly popular slotted headstock with a rounded top and Waverly tuners.
Phil Jones popped down from Porthcawl to have a pickup fitted in the
bubinga Torridge he bought from Oasis in Ringwood last year.
Oh dear –
The more repairs we complete, the more come in it seems
– as you can see by the ever-increasing pile of cases!
Amongst them this nice old Guild for a neck re-set
and replacement for the broken truss-rod,
This PRS we've just put back together with a neck break – both ends of the neck!
It was good to see this lovely lacewood, narrow bodied Tavy of Lucy's again.
Now – just to let you see how we suffer for our art,
I recently took a photo of my picking hand – not a pretty sight,
it's a bit ironic that working on these guitars
make it rather painful experience playing the finished product!
Hopefully things will heal up by next month.
January News 2015
A quick mention of Robbie J's CD launch –
If anyone would like to attend the event come along to
Wiltshire Music Centre in Bradford on Avon, Wednesday 28th January,
you can expect an evening of fine guitar playing by Robbie and Dave Smith
and try a selection of Brook Guitars brought to you by the Shady Grove guys.
This little Clyst is going up to Soundpad in Barnstaple.
We've had a few of our older instruments in for set ups this month:
This fourteen year old distinctive narrow bodied lacewood
Tavy of Lucy's which needed a tweak of the trussrod,
And this lovely little English walnut Bovey of Phil Bird's we made fifteen
years ago which suffered some damage to the top when he lent it out!
Oops! – Phil Ecclestone also had an unwelcome accident with his Taw,
we can't expect to carry out an invisible repair this time without replacing the top,
Here's stage one! More to come as we proceed.
Fabrice's daughter took this photo of him playing his new Lyn
on this sunny day in Lavande, Provence.
Quite a few repairs again this month,
one interesting one was a refret on this immaculate Hofner Verithin,
And here's Andy doing a neck reset on a resonator.
Back to that David Oddy tenor guitar re-neck,
Marc thought it would look great with a black top,
rather like the vintage Gibsons so we were happy to oblige,
here's Andy spraying the first coats,
And the neck and body hanging to dry in the spray room.
Next month we'll be able to show you some of the new guitars
for Intersound and Project Music along with some other interesting
instruments which are nearly ready to leave the workshop,
also hopefully an update on Robbie's event at the Wiltshire Music Centre.